Don't Miss Out: The 2019 Social Media Trends Watchlist
by Cydney Hatch • February 25, 2019
Last year, we saw a ton of changes in social media. From Instagram IGTV, YouTube gaming, Facebook meltdowns, and Reddit's stunning overhaul, suffice it to say that 2018 was a big year for social media marketing! As social media platforms have evolved into branded communication channels, more businesses are relying on these platforms to reach their target audiences.
So, what can businesses expect in 2019 and how can they get ahead of their competitors?
In this article (and throughout the year), we'll cover 2019 social media trends that you should take advantage of this year to better reach your intended audiences and to improve social ROI.
2019 Social Media Trends to Watch
While 2019 will bring a lot of new features and trends businesses will need to pay attention to, social media success always comes down to a few simple things:
Understanding your audience
Crafting unique and personalized messages
Being thoughtful with timing and engagement
Creating engaging and high-quality content
Cultivation
As we move beyond the basics, let's look at the 2019 trends you should consider implementing into your social media marketing strategy:
Listen to Your Social Birdies
Gone are the days where you can just blindly run social media accounts and not take into consideration the feedback you get from your fans and foes alike! This is where social media monitoring comes in handy in being able to listen to the whisperings of people about your business!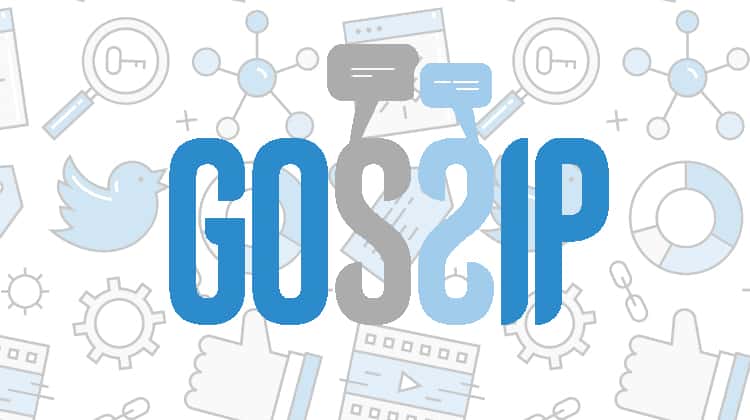 Social monitoring is the act of going through social platforms to find all mentions of your business or related keywords. This also includes untagged brand mentions, industry keywords, forums, blogs, and news publications. The primary goals of social monitoring are customer service and reputation management but there is a new goal in creating targeted content from comments!
For example, Dominos Pizza saw the overwhelming amounts of negative comments about their products which inspired them to create a campaign that addressed the comments and helped improve their business experience.
Like Dominos, you can use social monitoring as a way to improve your social media success, especially when it comes to lead generation and social selling. To help you with social media monitoring, there are a number of tools you can use to gain insight into your findings:
Only a tiny number of brands do this, yet many marketers are discovering that they can find people looking for their products/services as well as commentary to inspire better content just by looking at comments!
Build Social "Trust Falls"
2018 was a growing pain year for social media platforms. Facebook battled privacy leaks and Twitter struck down troll accounts making it easier to report harassment. Although there are positive changes being made on both the data and harassment fronts, these have left social media users feeling uncomfortable about businesses online.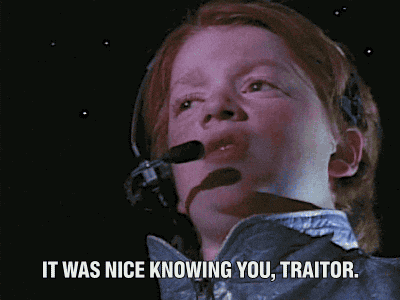 Consumer confidence in social media is on the rocks and in 2019, it's businesses job to be transparent with their audiences.
Businesses need to label paid promotions and be more upfront about how they are advertising on social media. Younger generations have zero tolerance for marketing that comes off as disingenuous, so focus on ways to authentically connect with them and be more personal.
Personalization will be key as people are sick of being constantly bombarded with ads. Ways you can do this are:
Promote a name and face to a business that promotes feelings of connection
Use more behind the scenes and transparent content
Be upfront about what is paid and what is not
Create ads that seem likes like ads through storytelling and creative ad copy
Use influencer marketing responsibly and honestly
Share milestones and progress
Be transparent and apologize for mishaps or problems
Personal branding is a must on social media in 2019!
Be Customized
In 2019 it's easy to collect all kinds of information about the people we are wanting to market to. Content, products, emails—all of it can now be based on the customer's behaviors, clicked links, and social sharing. This has opened the door for enhanced personalization…but it has also created the expectation for it.
So, 2019 is all about customization and personalization!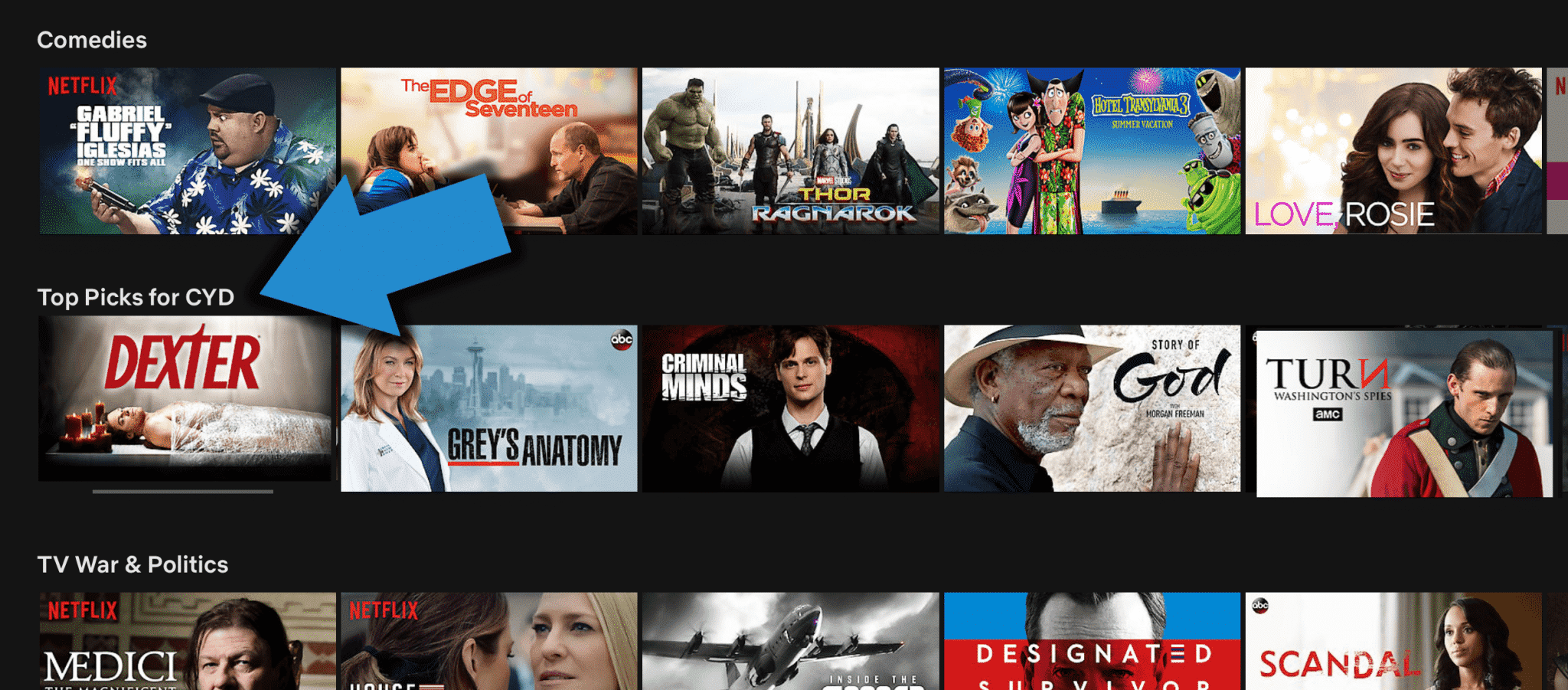 For example, Netflix recommends shows based on your binges and Amazon serves you recommended items inspired by your previous purchases. Believe it or not, Google and Facebook do the same exact thing making sure that your experience is personalized via content and ads served.
While personalized marketing can be unsettling (especially retargeting, which can be downright creepy), it's truly convenient for the customer. In fact, 96% of marketers believe that personalization advances customer relationship building towards sales.
As much as we live in a data paranoid world, people appreciate relevant suggestions for products and services! The whole point of the internet is to make life easier and this type of stuff truly helps boost campaign performance.
BONUS: Segment your social audiences
To help with personalization in 2019, businesses will want to truly segment their social audiences! Segmentation is the process of organizing your audience into groups so you can tailor your messaging to the needs of particular groups.
Since social media performance is greatly tied to relevance and timing, segmenting your content to the right groups of people at the right time will be a game changer! Don't make the lazy mistake of lumping your audience into one single group! This will limit your ability to reach people in more meaningful ways!
Collect information about your audience as to best segment them and your content correctly!
Put Cha-Ching in Social
Social media and ecommerce have truly come to a beautiful synergy point in that there are improved social shopping technologies that make shopping a breeze! From Instagram shoppable posts, Pinterest pins to Facebook Marketplace, social platforms now enable users to go from discovery to sale without ever leaving the social app.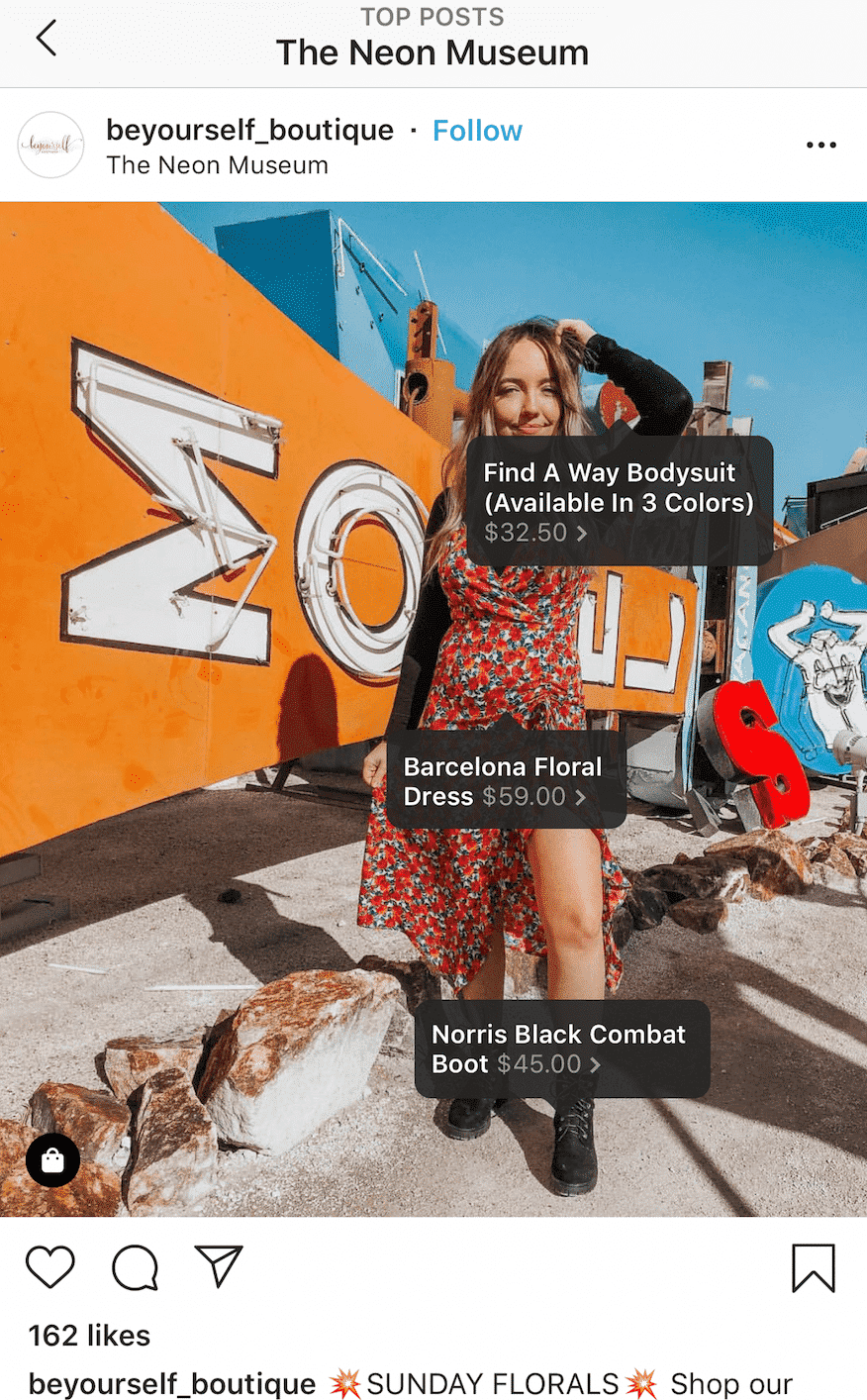 For example, look at how Folli Follie uses display pictures shared by customers on social media to enhance their ecommerce website's appeal. When the user clicks on each customer photo, they can see which product is featured in the picture and buy it with a click.
How easy is that?!
Like them, you want to make the shopping experience as "brainless" and easy as you can! If your customer needs to search or think about how to get to the shopping pages, you are doing shopping wrong in 2019!
So how do you start incorporating social commerce into your marketing strategy?
Find ways to make shopping live, interactive, and easy, especially on mobile, will greatly benefit your bottom line. Some of the ways you can better streamline your customers' shopping experience is dabbling with :
Shoppable Instagram posts (Pair items together in a photo so that people can see how your products look together)
Give interactive views of products (Lifestyle video/photos help potential customers see the products without going to a store)
Mass-market using Messenger (Share exclusive content and helpful information)
Use chatbots (They act as digital attendants for shoppers looking in search of recommendations)
One-Click Purchasing and Socially Integrated Shops (offer quick ways for checkout within an app)
Be More LIVE-ly
It's no secret that we as a society love video content. I mean prerecorded videos like Jay Shetty, who has 16 million followers on Facebook alone, has videos that are shared and viewed in the thousands!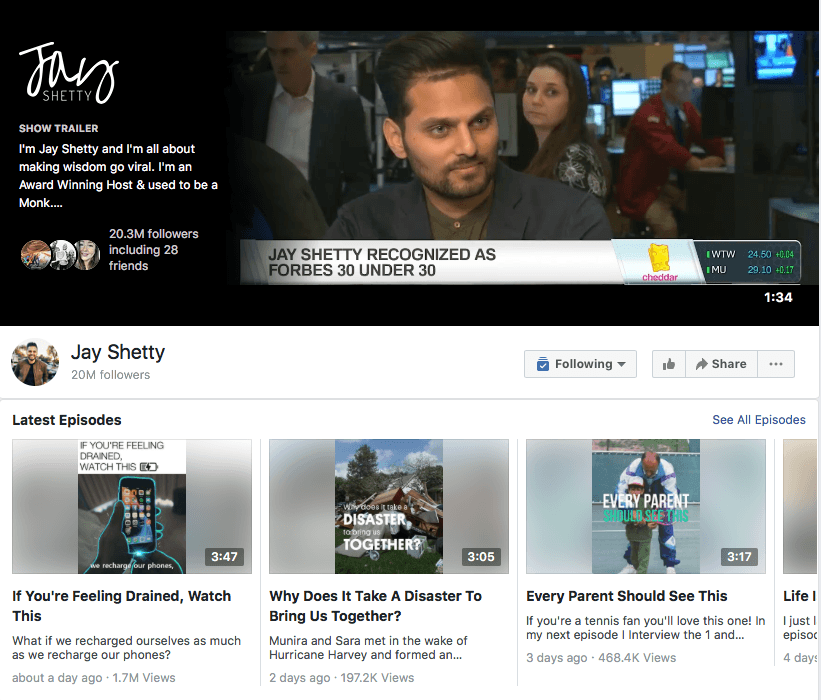 Most videos like his, are performing better than most blog content these days—they drive more engagement, views, and traffic.
So what happens when you take your video content to live?
Going live adds two elements to video: feelings of "FOMO" and audience interaction. On top of those two psychology reasons, Livestream conducted a study that revealed 80% of users would rather watch live video from a brand than read their content marketing posts.
So, repeat after me: People want to see your business produce live video more than they want to read your posts.
Mobile usage and even shorter attention spans will continue to increase the popularity of live video content in 2019, especially with younger generations, who thrive on their relationships with brands being authentic.
With that being said, stories will become the primary way to share content on social media, making News Feeds something of the past. So, if you need some recommendations on how to best get started with live video content look at my guide here.
Get More Cliquey
Groups and exclusivity features boomed in 2018 as a way for brands to directly connect with users without algorithms affecting their communication. By creating these private groupings, businesses have been able to collect real-time responses and feedback from fans but it works as a great cultivation piece connecting business to customer.
In 2018, Facebook invested new features into Facebook Groups and this trend moved on Instagram with the addition of the Close Friends feature in Instagram Stories. As these are new features that have not been heavily used by businesses, this is a great opportunity for your business to directly communicate with your audience.
By using features like this you create:
Personalized content group members will love
Personalized messages for segmented  groups
Create a feeling of direct connection to your customers and fans
So, with that all said, 2019 will be the year that businesses and brands make exclusivity more a "thing."
Promote Employees to Influencers
I will be the first person to say, I love influencer marketing, but it has become a beast in both the best and worst ways.
Unfortunately, many accounts are faking partnerships so they can become actual influencers while others are authentically adding value to the social community. In fact,  The Atlantic took a look at a few accounts faking their influence and a 15-year-old influencer commented, "People pretend to have brand deals to seem cool."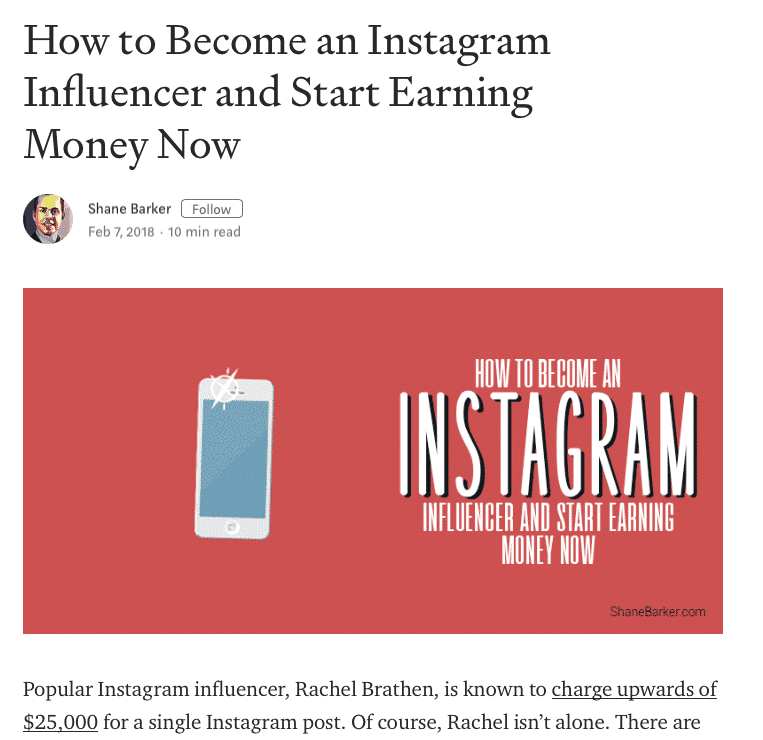 With situations like this and the popularity of influencing growing, influencer marketing will continue to be a huge resource for businesses in 2019. The catch is brands and businesses will need to be smart about their partnerships and do deep research into who they are investing in.
A new trend that might catch on will be including employee advocacy into their portfolios!  Encouraging your employees to talk about your brand will help brand awareness even more as it will come authentically from your own people.
So, as a business, ensure that you have quality content that you can internally distribute for people to share. Examine your internal communications and ask yourself: What can you do better to allow for a more seamless employee sharing experience on social media?
Create content people want to share within your own office space!
BONUS: Micro Influencers
Micro influencers are people who have a niche audience within the follower range of 2,000-30,000 on a particular social media platform. These are important people to consider in 2019 as they have more focused messaging and niche markets. As with anything in marketing, the more targeted and detailed your audience reach, the better you will perform. Reaching out to smaller influencers like this might improve the chances of real ROI with influencer marketing strategies!
AI Technology and Chatbots
Chatbots are a super hot trend right now as younger generations are quick to adapt to these experiences.  According to Huffington Post, 60% of the millennial population already uses chatbots and 71% of Millennials have implied that they would like to try using one.
If that stat alone does not sell you on adapting these technologies know that Facebook Messenger bots have awesome open rates and are one of the most effective ways to reach and build audience engagement. In fact, according to Kristi Kellogg, Founder & CEO of Dazzling Digital, businesses that market via Messenger earn 60-80% open rates within the first 60 minutes.
In 2019, it's time to start chat botting away and ensure your customers are having a great customer service experience!
Video, Video, Video!
Ugh, video again? YES! Video is not going anywhere and if anything 2019 is wanting more of it! Make sure your business is considering some of the following in regards to video content in 2019:
Live video
Vertical videos, like seen in IGTV
Interactive videos that allow users to participate like LIVE Instagram Stories
High-quality production value
Video remarketing
Storytelling ads
If you are new to video production, hired a video agency or you have an in-house service you will want to ensure you are creating quality content. To help in the process follow some of these steps:
Set goals for your video to gauge success and purpose
Storyboard and thoughtfully plan every element of your video
Create different video lengths to use on the various social platforms like Facebook, Instagram, and LinkedIn
Repurposing your video content will help cut costs and make your efforts go further
Ensure you have great hooks as you lose audiences after 8 seconds
Get Snazzy Social Ads
With more brands competing for people's attention on social media, ordinary posts just aren't going to cut it, so 2019 will require you to be creative and interactive!
People are catching on to the need for more resources resulting in people increasing social budgets by  32% in 2018 alone and producing more ads than ever before. With numbers like that, 2019 will require you to stretch your mind and come up with new ways to communicate with your customers.
The heart of compelling social media posts are high-quality, interactive and creative visuals. These are essential for clicks and high conversion rates on social media! If you need to jumpstart some ideas on how you can differentiate your ads and content on social media, take a look at this guide below: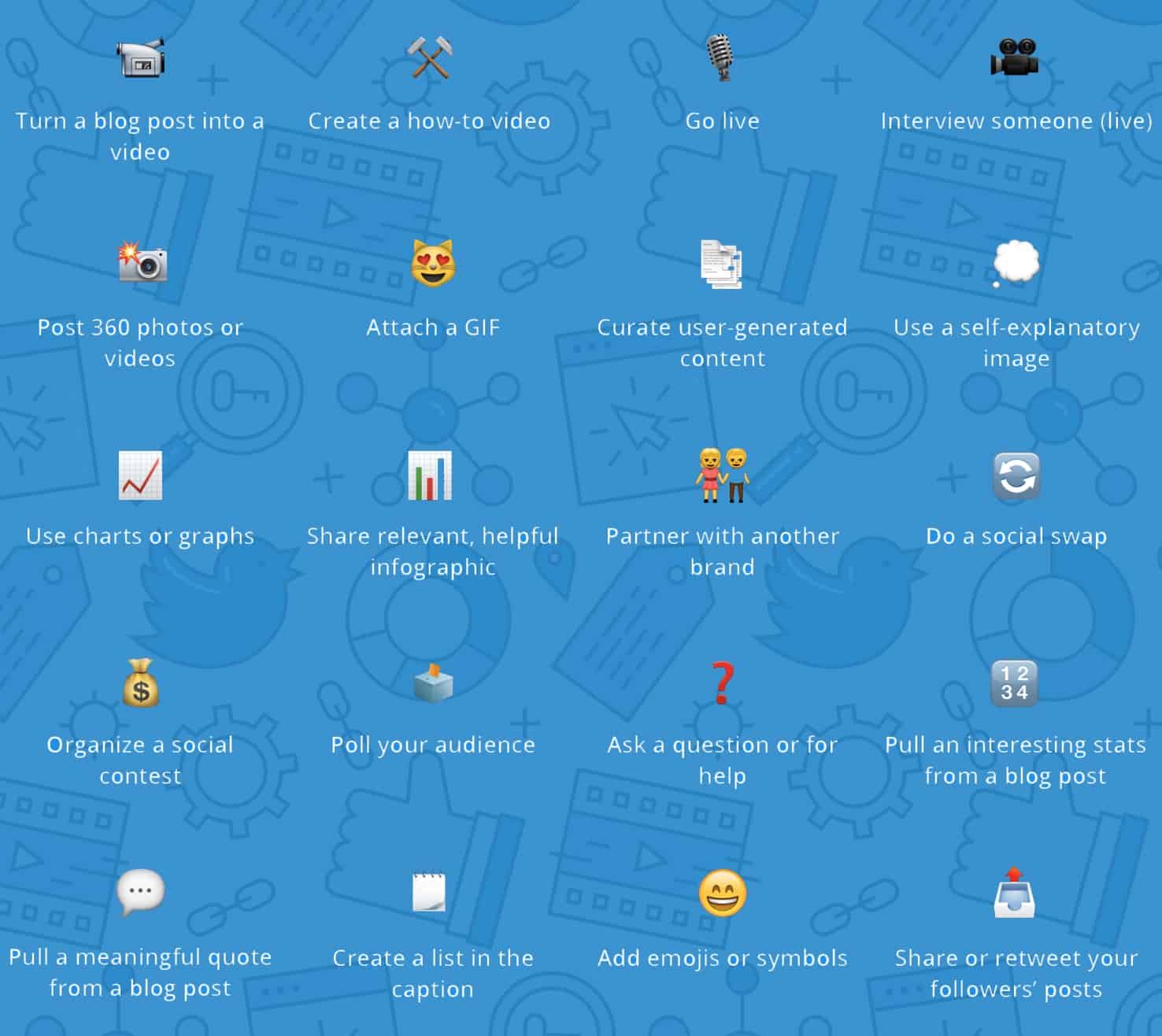 You do not need to be a top-notch artist to come up with creative visuals and messaging! You can repurpose content already created, add interactive elements, create high-quality images, or be personable with live content! The more dynamic, personable and branded your ads and content, the better they will perform and connect with your audience.
Brand awareness and carving out a unique spot for yourself will be a great goal in 2019!
2019 Here We Go
And there you have it, social media trends you should consider in 2019!
It's fun to take a guess at what the next year will bring for social media but the above trends are ones you can definitely count being relevant strategies.
2019 will be a big opportunity for savvy advertisers to grab an advantage over the competition and we are here to help! It'll be a lot of work, but that's what makes the advertising game fun! If you'd like any help taking advantage of these social trends for your own business, let me know here or in the comments. I'd love to help!
What do you think of these 2019 trends? How do you think they will affect your social marketing efforts? Are there any additional trends you'd add to this list? Leave your thoughts in the comments!