How to "Pop" Some Social Media Quizzes into Your Marketing Strategy
Marketing
•
Social Media
•
Cydney Hatch
March 11, 2019
Remember the good ol' days when you would have teachers randomly spring a pop quiz on your desk to gauge how well you were learning and where you were in the school year?
Well, just like these pop quizzes, in modern marketing you can use social media quizzes to randomly gauge what your audience is thinking and much more!
I mean, let's be honest, we all have probably taken some sort of "personality quiz" and shared the results on Facebook, right? If you haven't, you can probably attest to seeing people constantly sharing the latest social media quiz you can try to see which "Game of Thrones House You Are From" or how a dessert choice can "Reveal Your Hogwarts Professor Identity…"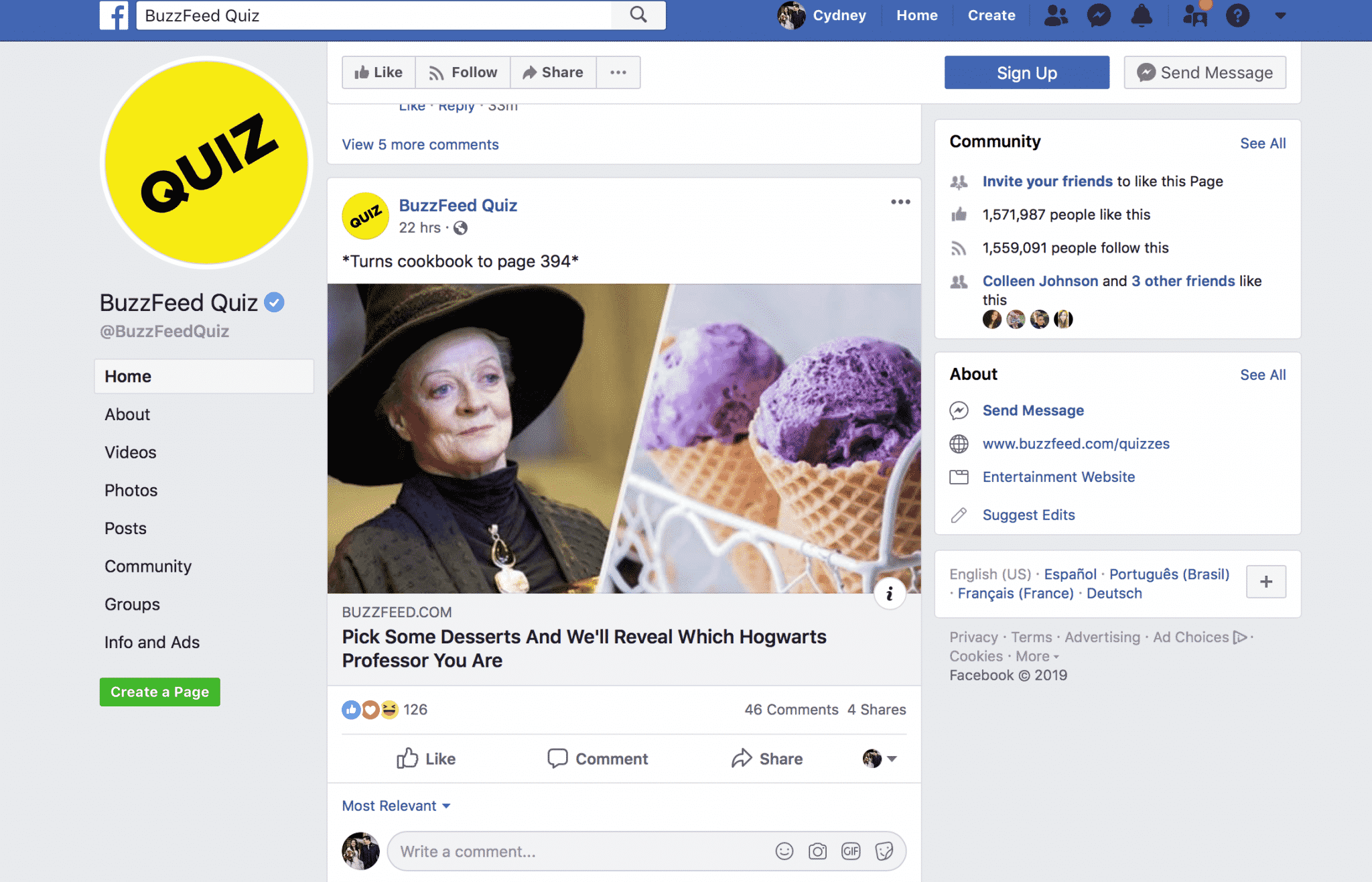 It seems like social media quizzes are everywhere, so what is the deal?
Simply put, social media quizzes are fun to take, focus on "self" and are easy to share. In fact, according to BuzzSumo, the average social media quiz gets shared 2,000 times on social media and their popularity doesn't show signs of fading anytime soon.
So, with content numbers like that, want to "pop" some quizzes on your target audience to generate more leads? In this article, you will learn everything you need to know about social media quizzes and how you can create your own to engage your audience, gather meaningful feedback and build important email lists!
Let's get poppin'!
Why Do Social Media Quizzes Work?
So you might be wondering how and why social media quizzes could contribute to your social media marketing. I mean, most look pretty silly, so how on Earth could that EVER bring value to your business?
Well, to start, we live in the age of digital narcissism. What used to be thought of as self-centered behavior is now the guiding norm of society, especially when it comes to social media.
People want to see themselves in the content they consume (which quizzes share reflections of a person all the time) and when they see other people participating in something, they most likely want to join in. In fact, the Proceedings of the National Academy of Sciences (PNAS), found that people mirror the positive or negative emotions that their friends express in their posts—all without the aid of nonverbal cues.
Creepy, right?
So just like mirroring emotions, people will share or participate in the content they see their friends engaging with, like social media quizzes.
Another reason why social media quizzes work is that they are hidden gems of lead generation.
For example, Rejuv Medical wanted to find a better way to bring new patients into their office, all while maximizing lead generation and building out their email lists. So, they decided to give quizzes a try and created a hormone imbalance quiz for Facebook users to take! The results of this social media quiz resulted in 947 new leads, 30 consultations and they closed 15 of them into new patients and made $18,000 in new revenue in just a month and a half!
Social media quizzes are a great option in the
modern marketer's toolbox
for capturing leads and increasing revenue. If you need a few more reasons to love social media quizzes, they also bring the added benefits of:
Audience insights
Pain point definition
Brand education and connection
People love social media quizzes, and you will too because of the added benefits they bring to not only your social content but your bottom line! So, if you want to take a stab at this social media strategy, let's take a look at ways to set up social media quizzes for your audience!
Creating Your Social Media Quiz: A Checklist
One of the best ways of learning more about your target audience is to use social media quizzes. Below are tips on how to create successful social media quizzes and how you can use them to benefit your social media marketing efforts:
#1 Have a Purpose
First and foremost, a successful social media quiz needs to have a clear objective. When you think about creating a social media quiz, you need to think about:
What information you want to collect from your audience
What you want to do with that information
What you want your participants to do
How you might help your target audience with something
So whether it is to grow your mailing list, drive traffic to a blog post, strengthen brand awareness or just to delight your customers with a bit of fun to develop personal relationships, create a social media quiz with a purpose in mind. If you do not, it will be meaningless and a waste of your marketing efforts!
#2 Create Something Engaging and Thoughtful
A social media quiz should not be a group of thoughtless questions jumbled together! You need to be interactive, fun, thoughtful and all about your audience. People love thinking about themselves so the quiz experience should always be pointing the spotlight towards your quiz- taker.
Regardless of what your business is, you can always point content back to your target audience. For example:
If you are selling bicycles, try "What type of road bike is the best fit for you?"
If you are a charter school, try  "Is ____ type of school the best fit for your child?"
If you are a restaurant, try "What dessert should you try on our menu based on your personality?"
To help you create quizzes like the examples above, think about the following:
Pick the Right Type of Quiz
When you use social media quizzes for branding purposes, you have to be careful as to what kind of social media quiz you pose to your audience! Be sure the quiz aligns with your business goal strategy.
Here are some common social media quiz types you can pick from:
Educational: A quiz that educates people about your business, services or products
Shopping: A quiz that acts as a product recommendation engine to pair potential clients with products and services you offer
Knowledge: A quiz that evaluates your audiences knowledge on a certain topic or gauges their skill level
Personality: A quiz that matches people's personal traits or preferences to specific results
You cannot go wrong with any of the above social media quiz types, just make sure the one you choose is the best fit for the type of information and voice you are wanting to project as well as your business objective.
Topic and Headlines
Choose a topic that will appeal to the quiz-takers' interests, emotions or pop-culture. Have fun, possibly be controversial and make the headline about your audience. For example, Buzzfeed is the king of social media quizzes and makes every headline POP out to readers.
Here is a catchy headline they used about a topic everyone loves, ICE CREAM!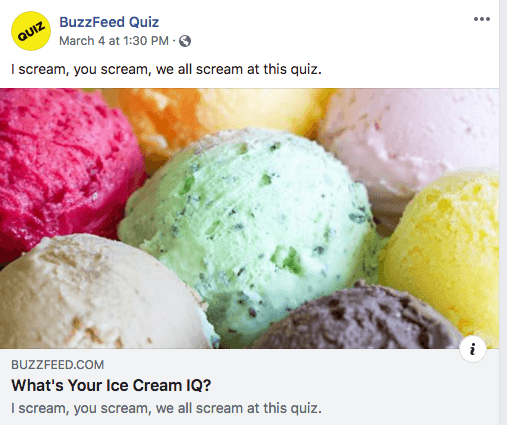 If you break down their headline and captions you see they are snappy, fun and direct. You too can create engaging, fun and captivating captions like Buzzfeed does by thinking of great disruptive words, fun phrases and keeping sentence structure simple!
Questions
When thinking about your objectives and the information you want to collect from your audience, you can easily brainstorm a list of questions you COULD ask…but you will then need to refine them down to the ones that really get at the information you need.
To help you in this brainstorming and writing process consider including some of the following things:
Keep the questions and answers short. A social media quiz should take no more than 2 minutes to complete, so 5 to 10 questions is a good rule of thumb
Make quiz content clear and simple. You want to ensure people understand your questions/answers and they are free from bias as best as you can
Use eye-catching images. When you include high-quality and interesting images, it draws attention to your quiz and keeps quiz-takers interested
Stay away from sales-y quizzes. Like most social media, you want this to be an engagement piece, not a hard sell
Going back to Buzzfeed's Quiz about Ice Cream, you can see that their questions do a lot of the above tactics: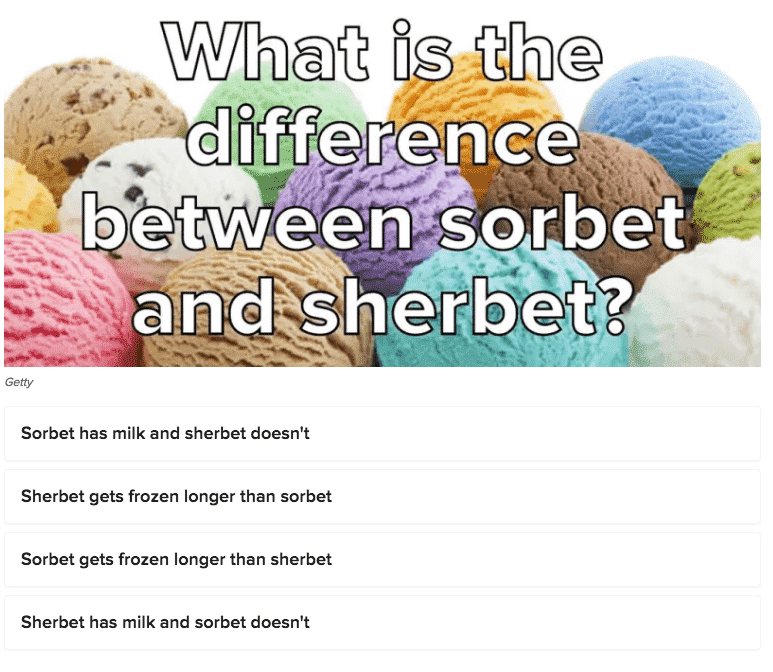 On top of that list I shared above, a great thing to do is to mix up the types of questions you are asking. For example, Buzz feed includes multiple choice questions, picture clicking and written response that give you multiple tries until they write the response for you. By mixing things up with how people are to respond to your questions, this adds more interests and allows people to be more engaged.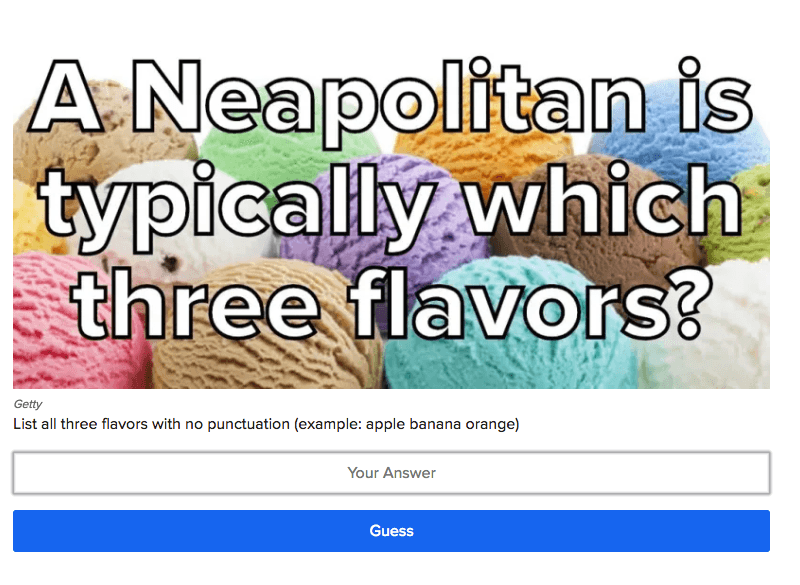 In this specific example, Buzzfeed includes the right answers to multiple choice questions to inform and educate people during the duration of their quiz.
By educating your quiz-takers, as they did in this example by sharing the right answers, you stand out as a helpful resource to people who are looking for answers already which is the point of taking a test!
Social media quizzes are about creating value just as much as they are about you collecting information from your potential customers, so take the time to educate and help your audience. It's a great connection building strategy!
Result Presentation
To make the most out of social media quizzes, you need to be generating leads or gathering helpful information about your target audience! To do this, you might want to do some of the following marketing tactics when sharing social media quiz results:
Withhold results for soft signups:  Instead of giving people ALL of the information for free, you might want to withhold the results to the quiz until they give you an email (obviously, give them a light ask and offer a "SKIP" button). By doing this, you are offering people an incentive and option to sign up for your email list without a HARD ASK.
Share results with information about YOU: Once they get their results, share highlights about your business or a product with a link. If your quiz was to share "what lipstick shade you would be based on your personality", share the link to the lipstick so they have the option to buy their "personalized" color.
Write informative and fun results: There is nothing worse than bland result descriptions that just state the answer. Give your audience more by giving the result with a complimentary paragraph that helps dig them deeper into the result. Connect that to something on your website!
Include sharing buttons: Many times social media quizzes lose a lot of value by not allowing quiz takers to share their results on their social media accounts. Be sure to have social media buttons, especially Facebook and Twitter!
Create a comparison: A lot of times it's fun to see how you compare to general populations when it comes to results, so if it makes sense or if it adds an interesting value, include stats on how the quiz-takers results relate to the quiz taker population.
Have a call to action: At the end, make sure you are pointing your quiz-takers to actions you want them to take! Include clear call to actions like click on links, have them comment about their results, or share with a friend!
For example, when I went through the Buzzfeed ice cream quiz, I found I was an "Ice Cream Mensa!" This results page has all of the right elements a results page should have! But, since Buzzfeed is not an ice cream corporation they do not need to share business information…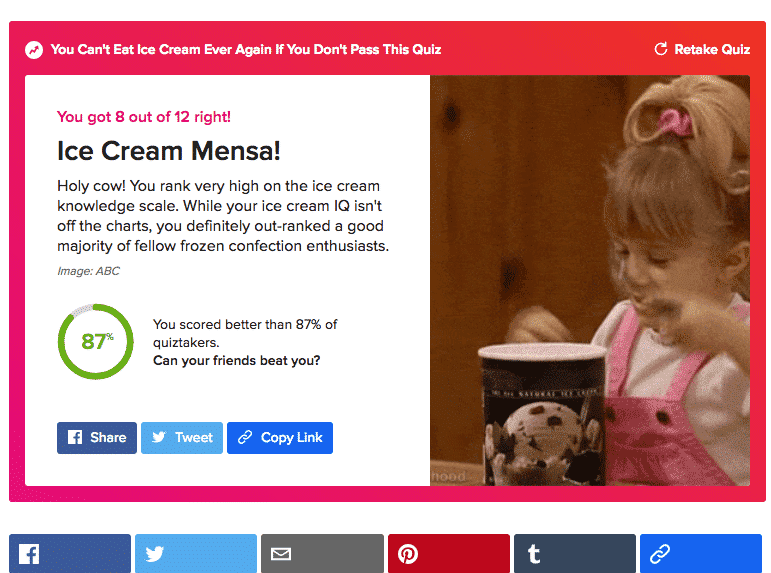 If they were I would include something like "Since you know a thing or two about ice cream, check out some new flavors you do not know about that are coming out this spring."
If you can lead your test takers somewhere beyond the quiz, that is a win because one click onto your website can lead to more if you do it correctly! At a minimum, they had share buttons which is always a crucial element to include!
#3 Sharing to Social Media
After you've created your quiz, post it to your business social media pages!
Ideally, a social media ad campaign will provide the kind of exposure you should have for your online quiz. Focus your efforts mostly on Facebook, as people love to click on quizzes that pop up in their newsfeeds! To make the most out of Facebook quiz posting, you will want to ensure that you have compelling visuals and share links within the captions!
For example, in the following Facebook post, Red Lobster promoted their Endless Shrimp Flavor quiz to their followers and it performed really well.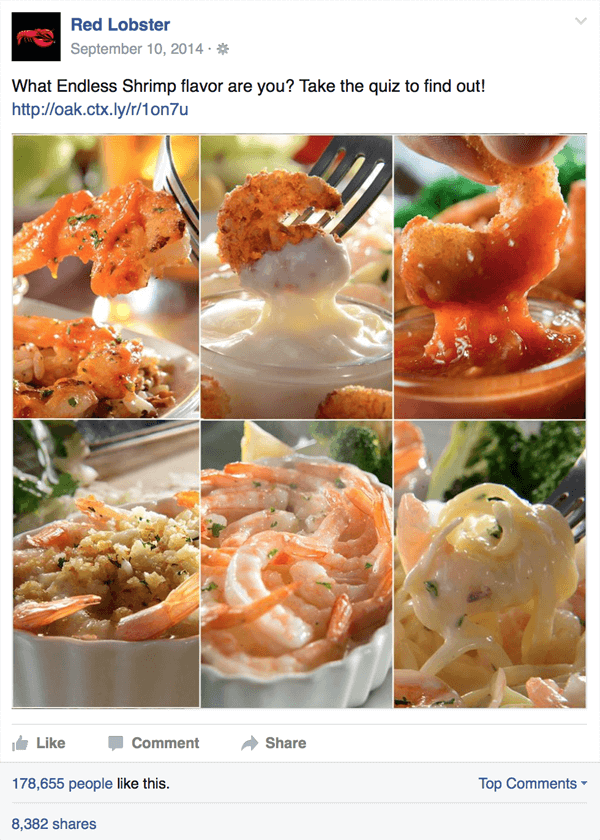 As you see Red Lobster used impactful, high-quality photos to promote the quiz. Notice that they didn't share the quiz as a link but instead shared a photo collage with a link in the status! This creates a visually appealing experience with shortened URLs, eye-catching images and a short snippet about the quiz.
Like them, you too can create click magnet social media quizzes people will want to participate in on their feed!
#4 Analyze Your Results
Like anything in marketing, you need to track progress and results! Once you shared out your social media quiz, you will need to evaluate the responses you get by focusing on your quiz's completion percentage and lead conversion rate.
By tracking the completion of quizzes, you are evaluating the interest and value you have created for your audience. If you are not getting at least an 85% completion rate it might be a sign you need to make some changes as people are losing interest! If your lead conversion rate isn't where you think it should be, consider making your incentive more appealing! Give a promo, a helpful content piece, etc!
#5 Follow Up
Remember how I said that people love thinking about themselves? Well, give them a reason to remember you and them again, after the quiz!
When you use social media quizzes as a way to get information about your current and potential customers you need to do something about it. After you've generated a good amount of leads and information, it's obviously very important to follow up with quiz-takers, so you get some value from the exercise. This can be a newsletter, a product referral, a thank you feedback discount code etc.
Be sure to segment your leads by their answers and follow up with a personalized email that takes their answers into account.
How to Use Social Media Quizzes for Your Gain
Now that you know some of the ways you can best build out a social media quiz, let's look at how you can use these social media quizzes as a way to engage our audience, gather meaningful feedback and build ever so important email lists!
Gather Meaningful Information and Insights
Quizzes can be a wealth of knowledge to businesses if they set them up to be that way! Although a lot of questions might not be directly actionable, look to see what answers will teach you!
For example, although Buzzfeed's quiz above was not hosted by an ice cream corporation, if it was the answers to that quiz can teach the corporation about how well people know the ice cream product generally. This is a great way to create future content to educate and answer questions many might have!
For example, if people did not perform well on a question like "What's the Difference Between Sorbet and Ice Cream?" you can easily write content to answer that question and give links to those products.
Like that example, social media quizzes can teach you the following about your audience:
Likes and dislikes
Knowledge of your products, services or industry
Brand loyalties
Concerns and Questions
Opinions and much more!
If you want to learn specific things from testing your audience, be sure to beautifully craft questions to give you that information in a fun way!
Diversify Your Paid Social Advertising Content
A lot of times, people want to see diversity in the types of posts businesses share out. So, to keep things interesting and interactive, you can use social media quizzes as a great way to diversify your paid social content! Although the process of promoting your quiz through paid advertising can require some steps, be sure to maximize your efforts by targeting certain people:
Target Audience – You have your choices of selecting a target audience by location, demographics, behaviors and connections. By doing this, you are serving your quiz to people you actually want responses from!
Custom Audience – It sounds complicated, but it isn't. Creating a custom audience consists of working with a list you've uploaded ahead of time. Facebook then generates an audience based on that list of previous customers you've already worked with.
When you use paid social and target certain demographics to take your social media quiz, you are maximizing the quality of your responses and you are creating paid social that is not just a promo. This is a benefit to you as much as it is to your target audience!
Build a Lead Capture to Grow Your List
Although social media quizzes are full of fun and silly questions, at the end of the day, we are marketers trying to gather information for gain, right?
Social media quizzes are a great way to increase opt-in rates for lead captures. If you are stuck on ways you can gather meaningful information during your social media quiz, look to:
Include Incentives to Increase Opt-In Rates – Even if trading quiz results for contact information is a fair trade as is, take it a step further and provide more value like giving a free ebook, course or content piece!
Request Information That You'll Actually Use – Most lead capture forms request an email address so be sure to ask for information you will actually use as a business to follow up on! It's completely okay to request a first and last name, too.
Be Honest About Your Marketing Strategy – We live in a world that requires more transparency than ever so be sure to give your audience honesty about your intentions! This step is only necessary if you want to avoid becoming SPAM to people!
Pop! There Go the Quizzes (Into Your Marketing Strategies)
Hopefully, you now feel confident that you can implement social media quizzes into your social media marketing. There are tons of easy and visually appealing programs you can use to create them like typeform, fyrebox and brandquiz!
Now that you have the tools, the checklist and hopefully now the strategies in mind to make this work for your own business, get them "a-poppin!"
If done right, social media quizzes can be a fun way to boost your audience engagement as well as get the information you can use to improve your marketing content! So, try it out in your marketing strategy and see how far you can get!
What do you think? Is there a place for social media quizzes in business's social media strategy? Do you use quizzes on your Facebook pages?  Do you prefer personality quizzes or knowledge tests?
Leave a comment