Hot Stuff: 15 Must-Read Marketing Articles For 2018
So many marketing articles, so little time!
No one really knows how many websites or individual web pages make up this seemingly infinite digital universe that is the internet, but between individual bloggers, agencies, businesses and more there are so many resources all at your fingertips!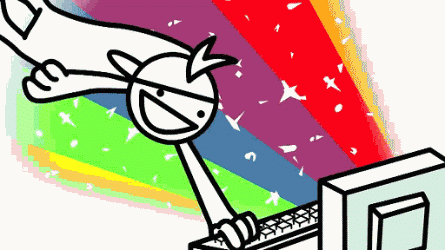 With the internet, you can learn pretty much anything you need to when it comes to successful marketing. Although it takes action, testing, and planning to truly see what works for your business, there are a lot of great marketing articles out there that will get you off on the right foot!
Hot Stuff: 15 Must-Read Marketing Articles for 2018
If you are looking for the "hot stuff" of 2018 and a master list of marketing articles that everyone should read this year, we've got you covered. Take a look at our recommendations below, along with some of our favorite quotes from inside the articles!
"Customers today are not just consumers; they are also creators, developing content and ideas — and encountering challenges — right along with you. Creativity in marketing requires working with customers right from the start to weave their experiences with your efforts to expand your company's reach."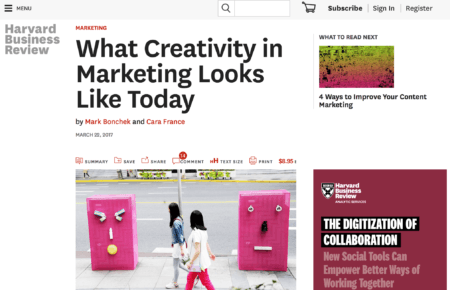 Reason It Rocks: Historically, the term "marketing creative" has been associated with the words and pictures that go into ad campaigns. But marketing has become more complex and rigorous for businesses. This article gives you some creative and thoughtful ways you can redefine creative for your business campaigns for the modern world!
"I'm not going to say blogs are dead (it's been said before). And I'm not going to say this is the year of video (that's definitely been said before).
"But if you're only doing text-based content, it's time to change."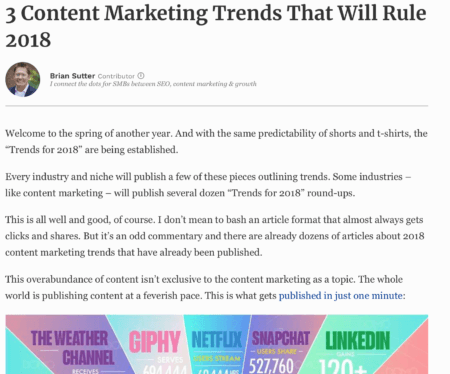 "You probably know that social media can help you reach new audiences and drive leads, traffic, and revenue. But did you know that social media can also help your SEO?
"In fact, social signals are one of the most important factors in SEO rankings. The more consistent social signals you produce for your website, then, generally speaking, the higher your rankings will be."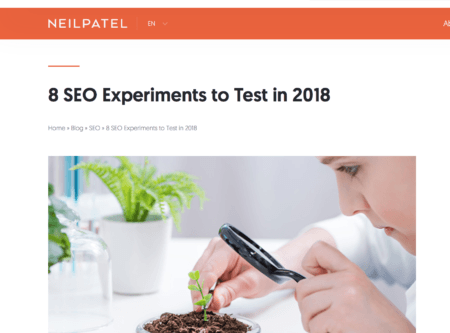 Reason It Rocks: This article gives you amazing tests to see how you can holistically improve your SEO in 2018. Innovative and completely detailed, Neil gives you a great glimpse to not only understand SEO better but to also improve it for better ROI results. Need a boost? Well, then this is the article for you!
 "I made sure for my business that I made one quality video and create a schedule for optimizing its share time. I shared that video on my different platforms at different times so that the algorithms will most likely work in my favor for optimal viewing…"

Reason It Rocks: If you have questions like: "Is it bad to post on Facebook multiple times a day?"…"I'm very new with IG. How do I get the right followers that will pay for my services?" or "If your strength is not photography what are some tips to create a strong visual for your page?" then this is the video blog post for you! Jasmine is a stellar business and branding educator who inspires entrepreneurs alike to excel at social media.
"In 2018, relevancy will win the war. If you want to increase your profit this year, it isn't about creating more leads, it's about building greater intimacy and relevance with the leads you have—so you provide the right solution, to the right people, at the right time."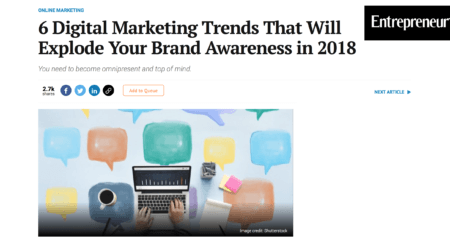 Reason It Rocks: I love that this marketing article makes marketing personal. 2018 will be the year of many businesses will switch to a more intimate approach to customer leads and acquirement. As people crave content, connection and relevance to their daily lives, this article gives you great steps on how you can make your brand connect with your target audience in a more intimate way.
"Compelling copy, in product descriptions or otherwise, paints a picture of how the reader's life will be different if they take the desired action (read: make a purchase). "Here's where you are, now; here's where you will be when you take action."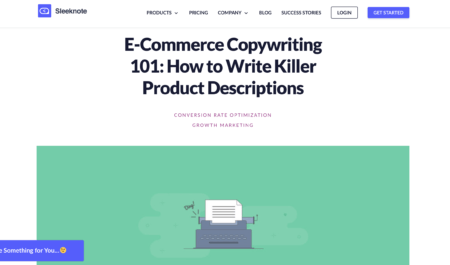 Reason It Rocks: As ecommerce is growing, writing content—particularly product descriptions—will be extremely helpful in your success! People distrust a lot of resources on the internet so writing FAQ's, product descriptions and overall website content that is helpful, creative and informative will set you apart from other businesses. This article does a fantastic job at breaking down everything you need to consider!
"Social Media is not worth my time: Connecting with your audience, providing education, or making sales isn't worth your time? Yeah, right."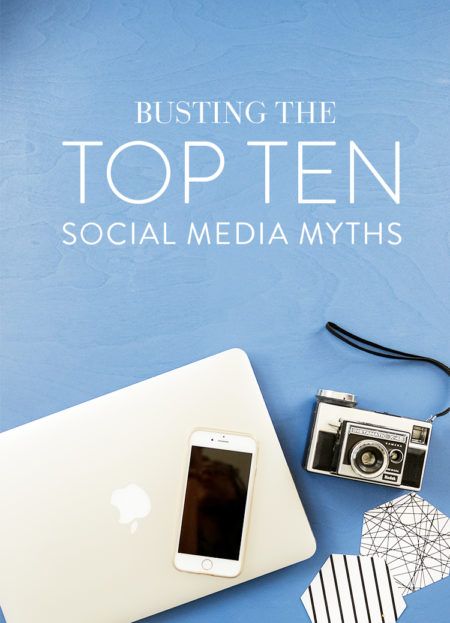 Reason It Rocks: This article is a fantastic pusher for you to get out there and try and improve your social media. A lot of the time we hear a ton of myths about the platfrom like it sucks up all of your time. it cant make sales or even that buying followers is worth your time but this article busts those myths and more. A lot of the time we are held back by such statements, but this article inspires you to grow your social efforts, puts you in the right mindset and gives you helpful hints on the industry.
"Today, the technical aspects of marketing and, increasingly, advertising still dominate the trade press headlines of the day. But what happens when we all have the same tech potential? Surely we've now reached the point where, in a world where everyone has the same tools and data, such tools no longer present a competitive advantage?"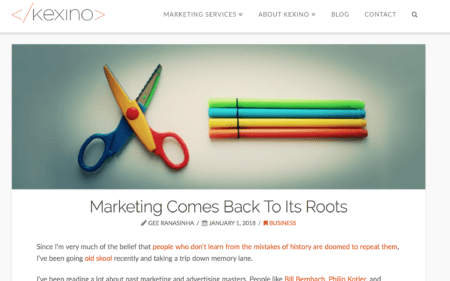 Reason It Rocks: This article asks some deep questions about the modern world and how businesses are viewing their success and marketing efforts. I think they are reflective and powerful to think about as you want to build a marketing campaign for the year. Paired with reflective questions, this article is a simple marketing break down of the roles you should have on your marketing team moving into the future.
"There are huge opportunities in the messaging space (only 20 percent of marketers have used messaging apps for marketing)"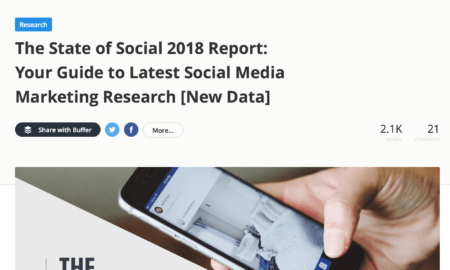 Reason It Rocks: Want to understand how social media marketing is changing and what's ahead for 2018 and beyond? This article is for you! This marketing article report shows us how marketers from businesses of all sizes are approaching social media marketing and shares helpful statistics that you will greatly benefit from. Who doesn't want to know trends and behaviors that are working/not working?
"The "biggest threat [to a business' website] isn't a competitor, it's the back button."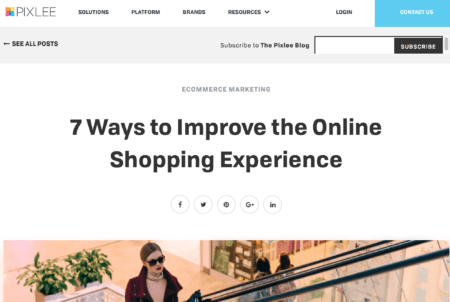 Reason It Rocks: To be successful in your business, you need to understand the preferences of the customer's shopping experience. How they shop, how convenient it is and how quick it is will matter. This article gives you some killer tips on how you improve your online marketing for potential customers.
"The one prediction I have for people using a free blog host is that one day you will want to migrate it to your own host. And that can be a really annoying process. It is much better to set yourself up the right way in the beginning."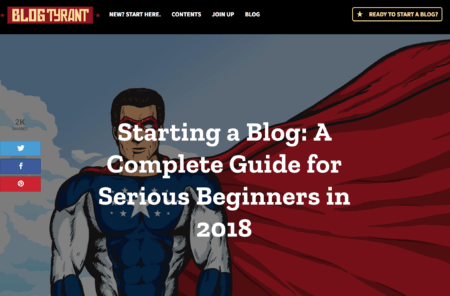 Reason It Rocks: Are you a business that is new to blogging? This is a marketing article for you to not only understand the basics of blog setup, content etc but gives you meaningful tips on how you can make your blog valuable to your target audience.
"Audiences are becoming more familiar with the visual and auditory content, instead of traditional copy."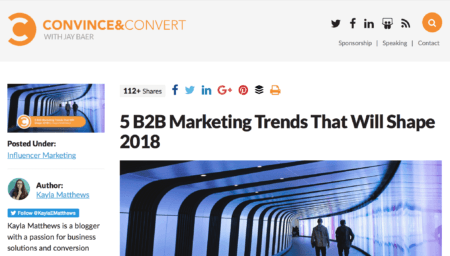 Reason It Rocks: B2B has really changed over the past few years, a lot of the changes having some tough growing pains adapting technology. This article gives you some great tips on how to embrace technology for your B2B marketing and how the customer is evolving with those technological needs.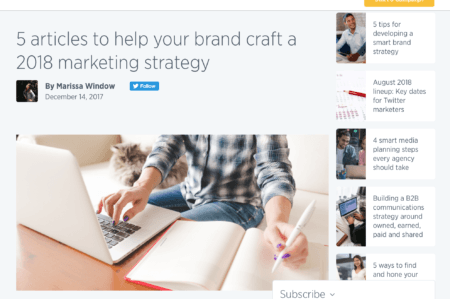 "And while investments of paid media are on the rise and continue to grow, there are additional considerations that should be top of mind as you plan your 2018 marketing strategy."
Reason It Rocks: I do not know about you, but this is definitely some "inception" play: an article about an article about more articles… Although this is not an article that shares a lot of content directly, it does share some fantastic articles in one place! Planning ahead is key to creating a successful digital marketing strategy for your brand so these articles help you organize your 2018 plan and get ahead of the competition!
"As more and more of those articles appear—and more authors and speakers attempt to brand themselves as "Millennial whisperers"—a few tropes about Millennials recur again and again.
"My advice as a researcher (and a practicing Millennial) is to mostly ignore the advice of those generational gurus."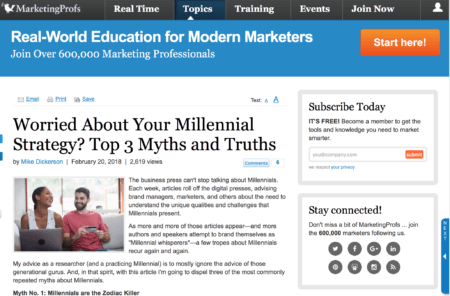 Reason It Rocks: There is a lot of content about Millenials and how to market to them since they are making up the majority of the workforce these days…but there is a lot that is not true. This article helps you put some things into perspective and gives you some real tips on how you can practically use marketing strategies to hook this demographics as well as silence some myths.
"The very nature of digital marketing requires that you continually re-evaluate your strategy to stay fresh and current. You don't have to reinvent the wheel—you just have to upgrade to high-performance tires, customize them with some chrome rims, and lower the suspension for better handling."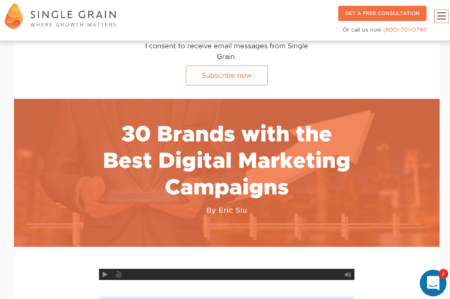 Reason It Rocks: It can be hard to execute a digital marketing strategy but a great way to get inspired is to look at brands that are making some noise in the digital marketing world and analyze what they're doing. This article gives you some stellar examples in digital marketing.
It's Time to Learn
Feeling inspired, informed and ready to get going on your marketing?!
These marketing articles hopefully inspired you to read more, try more and explore everything the field has to offer. Between PPC, Social Media, A/B testing to design there is so much to appreciate and learn! With knowledge at your fingertips, you can excel at any of these marketing tactics and rock the marketing world!
What marketing articles do you love? What inspired you about them and in your opinion what makes for a good marketing article? 
Leave a comment