Digital Hide And Seek: Why Your Google Ads Aren't Showing Up
So, you have your new pay-per-click (PPC) account built out…
The keywords are set, the visuals are created and the ad copy is beautifully written and optimized. Everything is ready to rumble, you activate your Google Adwords campaign but then…nothing.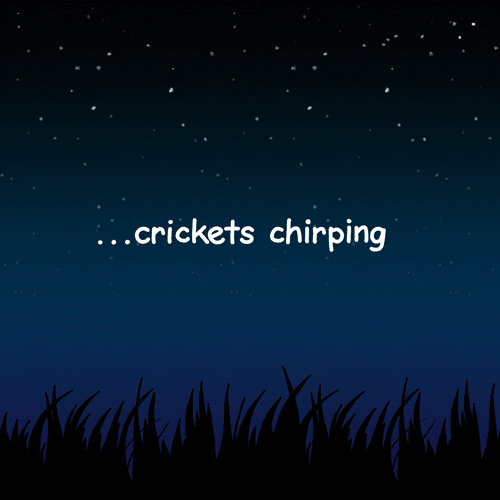 Scrambling, you go through your Google Ads account and see no ad spend, no impressions, no clicks…no nothing! For many, that experience alone might make them spiral into stress and worry but no need to fear! Troubleshooting Google Ads is pretty common and there are several reasons why your Google ads might not show up.
Google Ads Hide and Seek: Potential Problems to Check
So, your Google ads aren't showing up and you feel like you are in a wild (and expensive) game of hide-and-seek.
Step one? Breathe.
The good news: There's probably a perfectly good explanation as to why your Google Ads aren't showing! Let's take a look at common problems that occur and why they might be putting your Google Ads into digital hiding:
First and Foremost: Ad Preview Tool
Believe it or not, there is a tool for problems like this which can help you troubleshoot the issues you might be experiencing. First, check out the Ad Preview Tool.
This tool allows you to enter in a keyword for a specific location, language, and device that you intend your ad to show for, and then show you the search results page that would appear for that keyword, along with whether your ad made the cut or not.
By using this tool before anything else in your GoogleAd experience, you are making sure it's not an issue of users not searching your keywords yet. If your ad shows up in the tool, congratulations! There probably isn't a meaningful problem, especially if the campaign has been active for a short amount of time.
Your Adwords Billing Might Not Be Up to Date
One of the most common reasons why ads may no longer be showing is that your billing details have expired.
There are two ways you can be notified: email automatically or checking manually into the billing section. Go to the gear symbol in the top right of the AdWords interface and choose "Billing". Once you are on the billing options page, make sure your primary billing details are up to date and correct.
To ensure this problem does not arise again, you can also add a second backup billing method.
You Might Have Accidentally Paused Something
As silly as this sounds, things might have just been put on pause.
Now before you slap yourself, know this is a common issue for people. A start and end date may have been set for the campaign, and it may have finished. Alternatively, you may have forgotten that the campaigns were paused following low performance for a given time period, and you might want to reactivate them to test and use again.
So, to see if your Google Ads account has just been paused for one reason or another, simply go to "Change History." Here, you can see the changes that have been made to your account and filter by "Status." From there, check to see if all of your campaigns are active in your Google Ads account and make them active if they are not.
To ensure you get all the campaigns listed to check, set the view to show "All" or "All but removed" to unhide any paused campaigns.
Google Might Have Disapproved You
From time to time your ads will be disapproved if they do not comply with Google's ad text policy. To check the status of your Ads approval from Google, click the Ads tab for your campaign and check the "Status" column.
The Status column will let you know if your ad is Approved, Disproved, or Approved (limited). If the Ad is not approved, click on the small question mark to get more details on the ad's status.
For the full list and details of each approval status, consult the Google Ads Help Guide.
 Your IP Address Might Be Blocked
As a business marketer, you may want to search for products or services related to your business, but this will trigger your ads and therefore result in unwanted impressions. To prevent that, when the campaign was set up, your IP address might have been blocked to ensure unwanted and invalid impressions from you do not interfere with data collection.
So, in short, you might be blocked from seeing your own ads!
To check this, first make sure you know your IP address, then go to your campaign settings and see if it is listed in the IP exclusions section. Remove and save if you want your ads to show for yourself.
You Might Have Little-to-No Search Volume
A lot of the time, you might not be seeing a lot of ad traffic because you are targeting very specific, niche or long-tail keywords that not many people are using or searching for. Since that is the case, your ads might not have a lot of opportunities to shine online, hence not being served out for impressions.
To help with this, be sure to add in some broader keywords or choose a more encompassing match type like phrase or broad modified to show up for a wider range of valid searches.
Your Money Might Be Running Out
Depending on how you have your budget and ads set up, your money might get burned through quickly, which is why your ads might be paused.
Since lots of people have their ads shown and setup for quick delivery online, your campaign's daily budget may show as limited in the list of your campaigns. This means your ads are not being shown every time as Google Ads attempts to spread your budget across the day for better performance.
To help with this, you might add marketing budget or set ad scheduling to limit the hours of the day during which your ads show and target the times when they are most effective.
Your Negative Keywords Might Be Causing Problems
Keywords can be tricky and if you do not know how they work together, they might be working against one another.
Believe it or not, a negative keyword may be the reason why your ad isn't seeing the light of day. This negative keyword might be preventing your target keyword from being triggered due to being a broad match or phrase match term that matches part of your target keyword.
To help with this, the Google Ads system should show any conflicts in the "Alerts" section but this can take a while to show. You should use the Google Ads' Keyword Diagnosis Tool to get instant information on any problems with keywords.
You Might Have Location Problems
We always hear location, location, location when it comes to business building and real estate, but the same can be true for Google Ads. Location problems are extremely common for marketers in the following areas:
Narrow Locations: Although marketers have the ability to target areas as small as a zipcode, that doesn't mean you should always be so narrow. If your targeting is on the niche side, there's a chance that it is too small to garner searches and impressions.
Locations are Not Relevant: You might feel you have a strong understanding of where your ads should be showing online, but if not enough people are showing up, you might be wrong. Do more research on your target audience to find out exactly where they are. Start out broad and narrow in on more specific locations once you gather data.
If you can nail those two locational issues down, you can greatly cut down the possibility for error.
Your Scheduling or Targeting  Might Be Off
As you know, when setting up a campaign, you set up departing for your ads—allowing you to tell Google which days of the week and hours of the day you'd like your ads to show. If you are struggling to find results from your ads, you might have your ads scheduled too narrow.
Head over to the  "Ad Schedule" tab of the campaign you're concerned about and make sure your ads aren't scheduled to intimately.
Your Ad Groups Might Not Be Organized Well
In your Google Ads account, you have ad groups that contain two big components you must understand: keywords and ads. Those two elements are put together within Google's interface because they are closely related.
What that means is that when one of your keywords is triggered by a user's search query and you're entered into the ad auction, selects one of the ads that you've tied to that keyword.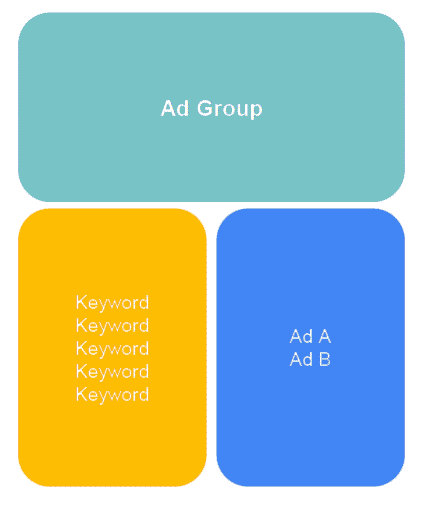 Your performance in the ad auction depends on how relevant your ad is to the user's query. The more relevant your ad is, the higher you'll rank in Google searches.
The fact that your Google ads aren't showing may be due to the structure of your ad groups. If you find that you've built your ad groups with keywords that aren't related to one another, that's probably the reason why your ads aren't performing well!
Your Landing Pages Might Not Be Relevant
We all know that Google judges your ads based on how relevant they are to their target keyword. A lot of the time, people think that stops at ad copy but that isn't the case. Google also looks at the relevancy of your landing pages, so if your landing pages aren't optimized or relevant to your target audience, your ad search ranking will suffer.
To help, you need to plan out keywords you are targeting and think about the target audience's queries online. Make a list of pain points, questions and solutions they might be searching for. If you can add the solutions and answers to those things in your landing pages you will rank better!
In short, the better you are at solving users' problems with your landing pages, the better you'll perform in the Google Ads auction. That means, your ads will be served out to more people and can help them perform.
Your CTR is Low
Another common reason your ads might not be performing is that your click-through rate (CTR)—the rate at which your ads are clicked on—might be low.
If your CTR is low, that means that your ads might not be that appealing to your target audience. If that is the case, this is a great opportunity to go back to the drawing board and work on content.
Like discussed above, Google rewards advertisers who write ads that resonate with users, so if you are not being a helpful resource, your ads will not do well. Ads that don't do well, don't show up on Google.
If you want to give your ad a better chance of consistently showing to your prospects, you need to write copy that grabs their attention and compels them to click. For example, Stitchfix wrote a really compelling and helpful ad for those looking for clothing options specific to body types: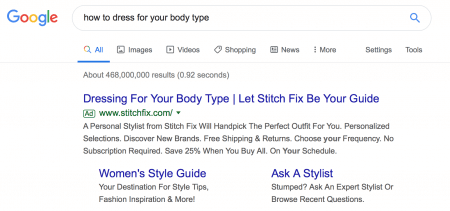 Like StichFix, writing a compelling ad is all about meeting the unique needs of your prospects according to their position along the customer journey.
Lost and Found: Google Ads Fixed
Hopefully, you were able to find some solutions to your Google Ads woes. If you are hitting roadblocks, do not get frustrated as many times setting up the Google platform itself is the toughest part.
If you are still having some troubles, be sure to reach out to us at Disruptive Advertising as we live and breathe pay per click and Google advertising! Again, to help minimize any problems, get into the habit of running the Keyword Diagnosis Tool every time you push new changes live.
This way you can instantly see any budget or keyword-related issues that will prevent your ads from showing.
In the meantime, share any troubleshooting tasks and tools you use! We would love to add to this article and share more helpful resources!
What do you think? How are your Google Ads going? Are you having any problems? Comment and share below! 
Leave a comment