Google's Keyword Planner Update: Everything You Need to Know
by Ana Gotter • July 9, 2019
Whether you're doing organic SEO research or are mapping out your next PPC campaigns, Google's Keyword Planner can be one of the most valuable tools that you could have on hand.
This free keyword research tools comes directly from Google itself and will show you stats on individual keywords including their current estimated search volume, competition levels, and bid ranges. It's always been a useful asset, and the recent Keyword Planner update has made it even more so.
In May of this year, Google rolled out a new version of the Keyword Planner based on user feedback to improve both navigation and functionality. The Planner is now easier to use than ever before and can offer more information in the process.
Wondering what these new changes encompass and how to use them? Let's go over everything new that came with the Keyword Planner and what it means for you.
What's New: The Basics
When the update rolled out, we didn't just get an updated interface that was a little more intuitive—we also got new features that made the Planner even more valuable for the marketers and businesses using it.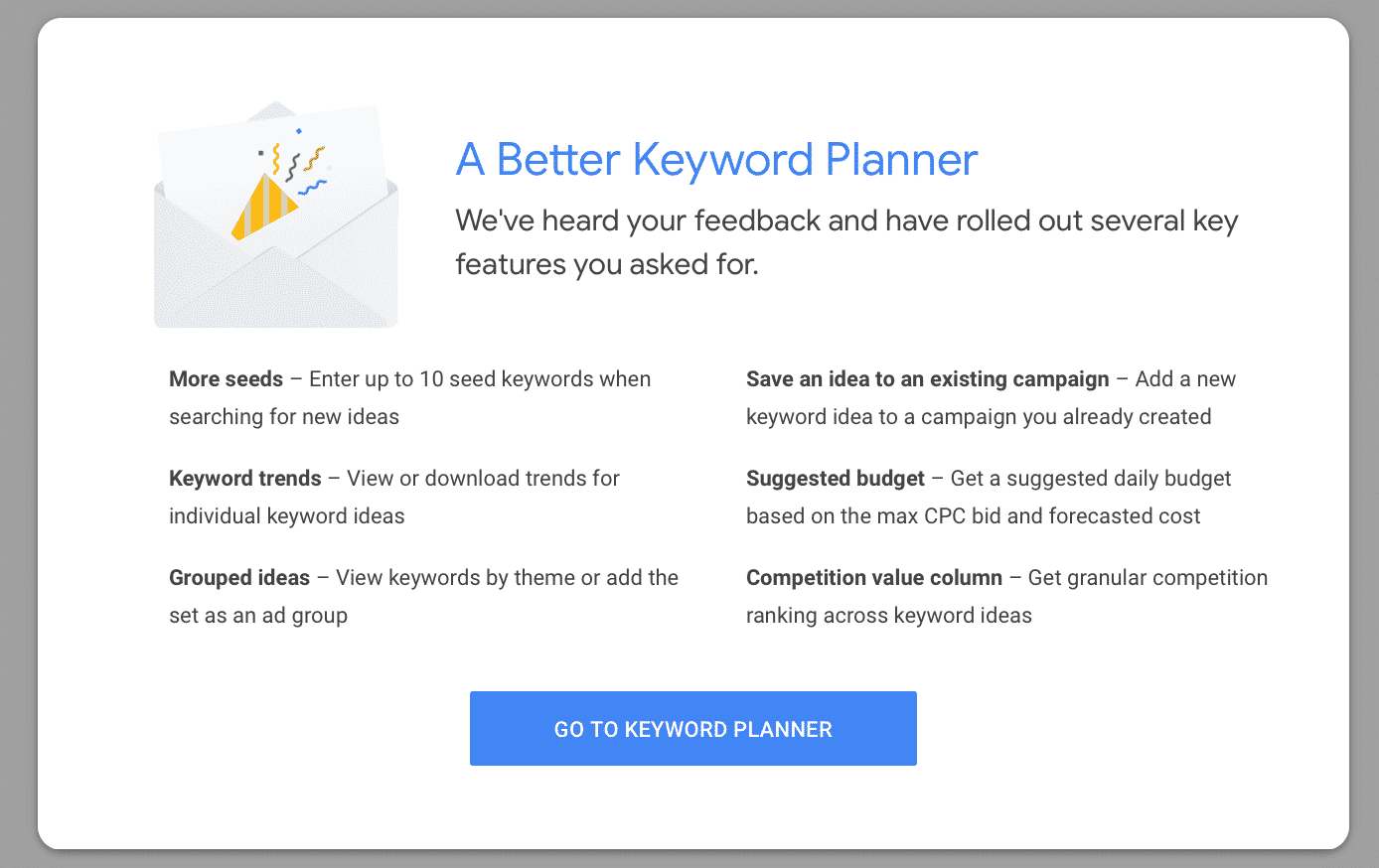 We're going to go over all the best new updates in detail below, but here's a quick look at what's new:
Enter up to 10 seed keywords when looking for new ideas
View and download trends for individual keywords
Grouped ideas, which can give you new ideas
Add keyword ideas to existing campaigns
Get suggested bids based on advanced forecasts
See a granular competition ranking for your keyword ideas
Enter in More Seed Keywords
Keyword research can take a significant amount of time. That's okay, because it's essential for both your organic and PPC campaigns, so you want to get it right. Regardless, it doesn't hurt if you can speed up the process a bit, and the ability to enter in more seed keywords to research all at once can help here.

When you enter in more seed keywords, it can help Google come up with a stronger list of suggestions for you based on context alone.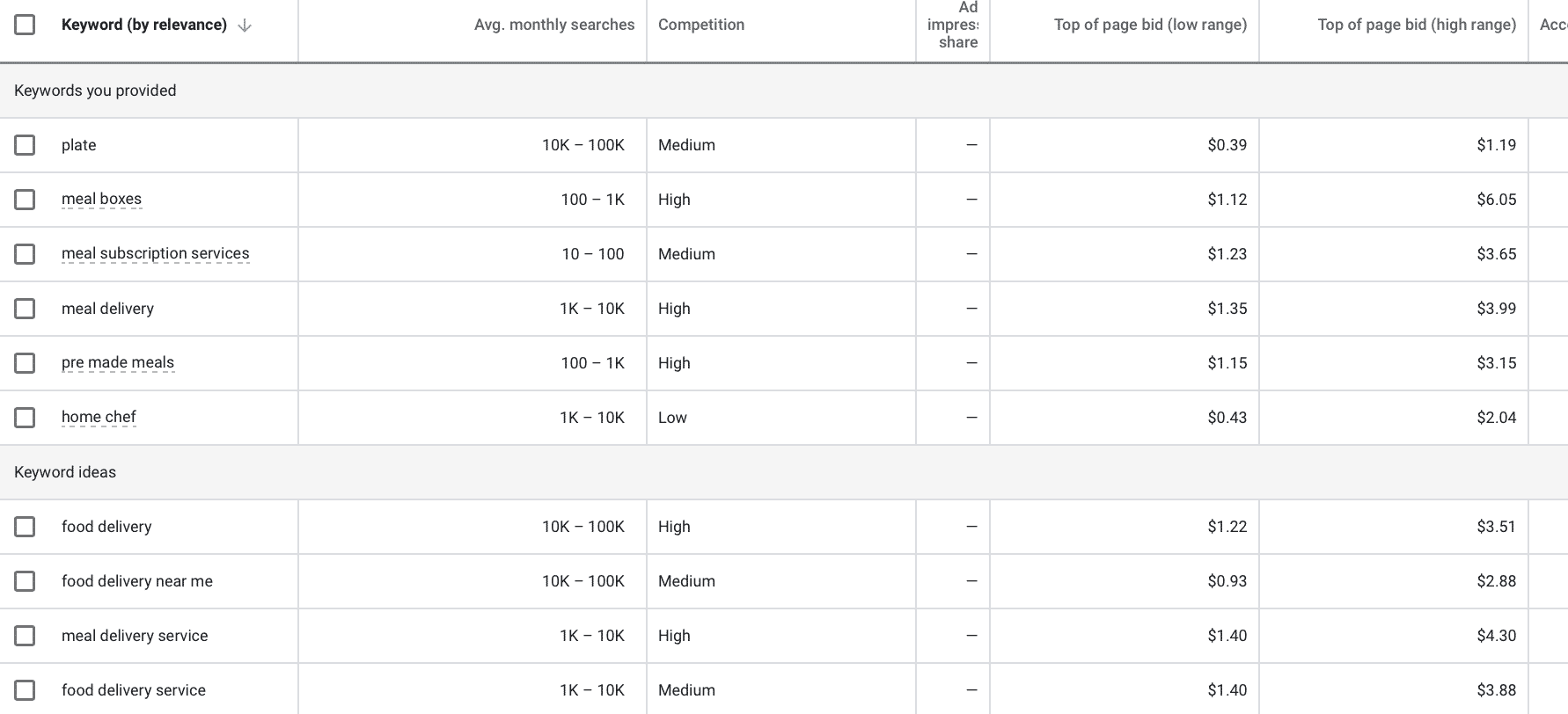 After you search for a group of seed keywords, they'll provide you with a list of keyword ideas that you can assess, and then add keywords from either group to an ad campaign or ad group quickly.
Grouped Ideas
The Grouped Ideas feature might be my personal favorite here, because it acts similarly to powerful keyword suggestion features that come with paid, advanced research tools. Google will provide a list of similar keywords that, based on context and not just direct phrasing alone, may be good choices for your campaigns.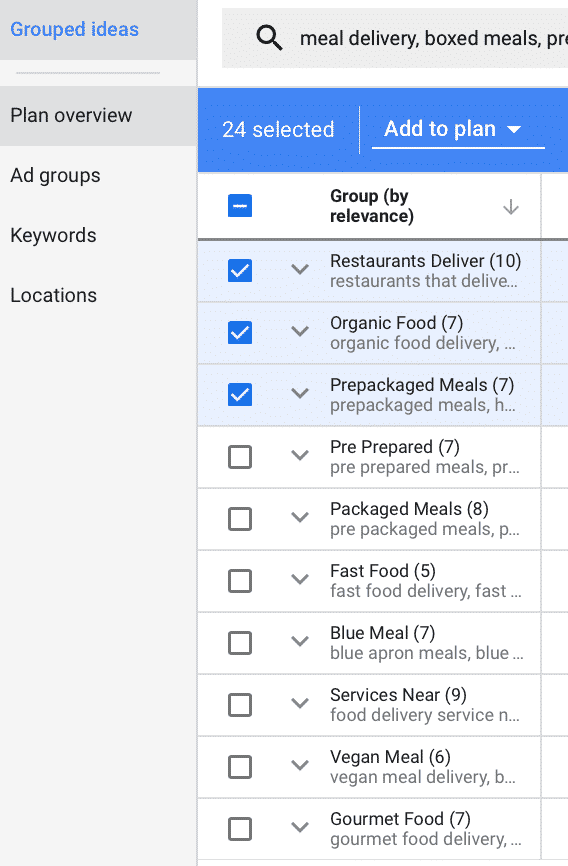 In our search, for example, we're looking at terms related to "meal subscription services" and "meal delivery," and we're given terms like "restaurant delivery," "packaged meals," and "Blue Apron meals."
This tool is particularly valuable when you're in the brainstorming process and trying to generate a list of keywords that would work well for you. It can give you new ideas for keywords to target, or even new niches that you may discover for more segmented campaigns.
More Advanced Forecasting
There's a lot that's up in the air when it comes to PPC campaigns, because things can shift quickly and both user behavior and the marketplace itself can be unpredictable. In spite of this, Google has rolled out more advanced forecasting features to help you determine fairly specific results you could expect on a given campaign based on the keywords that you've chosen.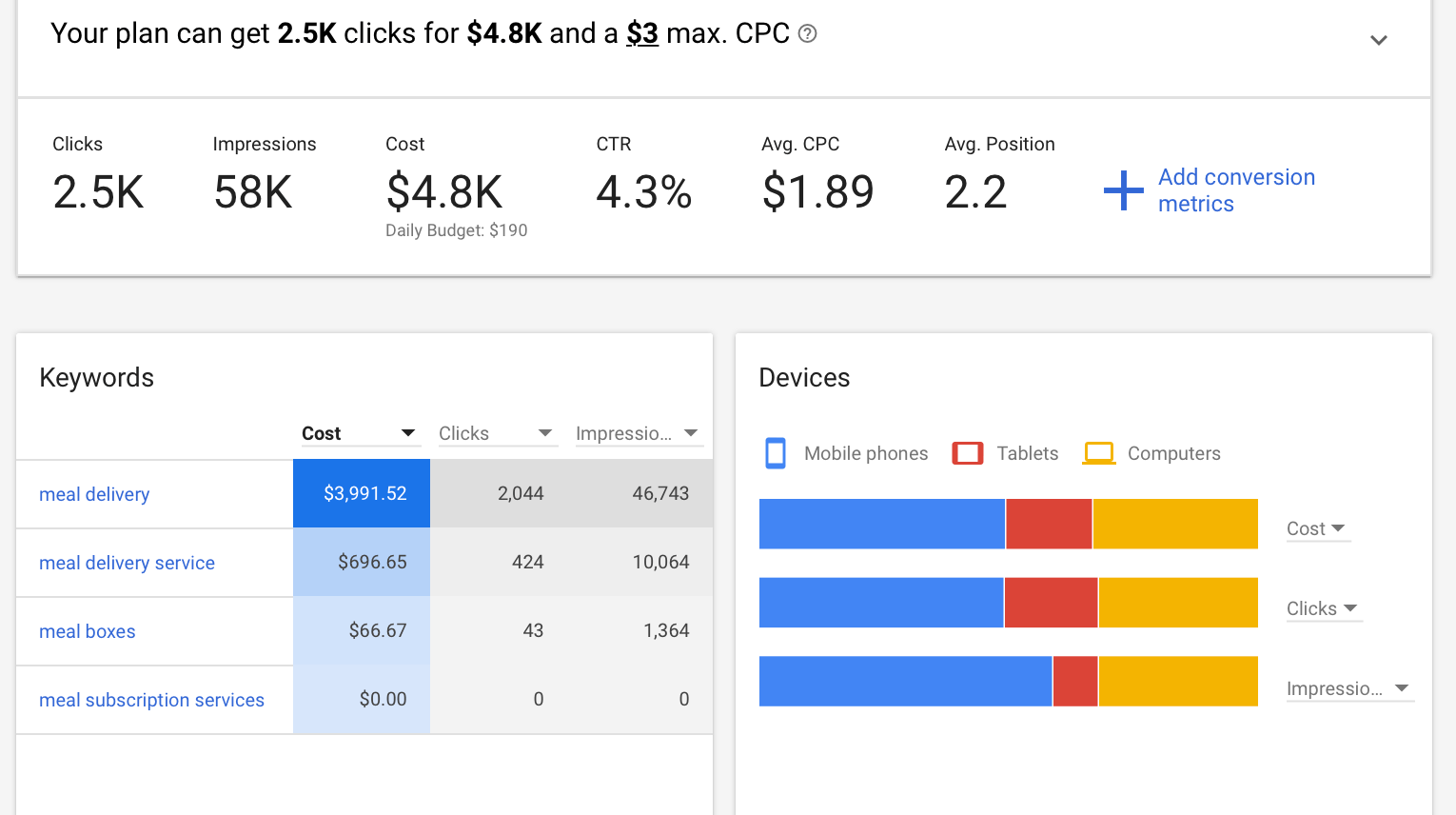 Google will offer suggested budgets here (see the $3 max above, along with the estimated average CPC), and then give you a basic idea of what results you could get with a strong campaign. You can see the estimated CTR, total cost, number of impressions and clicks, and your average position and CPC.
In addition to seeing the estimated results for the overall campaign, you can see a breakdown based on the individual keywords, too. Look for any that may derail your campaign with low performance (like "meal subscription services" in the example above) and consider weeding out any potential weak links.
Suggested Daily Budgets
There are so many decisions to make on any given ad campaign that PPC advertising can be downright mentally exhausting. One of the decisions you need to make quickly is how much you want to spend on an individual bid, which will have a significant impact on two things:
How well your ad places
How profitable your ad campaigns are
The Keyword Planner's new Suggested Budget feature can help with this. When you're looking at the Keyword Plan's forecast, click on the "cost" option when viewing the chart. You'll be able to see the daily suggested CPC. When you look at the "Cost" section (here it's listed as $4.8K), you'll then see a daily budget recommendation.

This can help you assess how much you need to spend to get a set number of results, making it easier to pace your campaigns and see how the pieces fit together financially. Take advantage of this, especially if you're unsure of where to start, but remember that you need to fit each campaign into an overall marketing plan. Prioritize accordingly, and remember that these are only suggestions and not requirements.
Competition Index Value
One of the smaller and easy-to-miss updates is one that you need to enable manually. That's the index value for the competition levels, which gives you an exact number of how difficult it may be to rank for a specific keyword instead of just a generic low, medium, or high score.
To see this feature, click on "Columns" when viewing your keywords.

Then, enable the "Competition (indexed value)" column.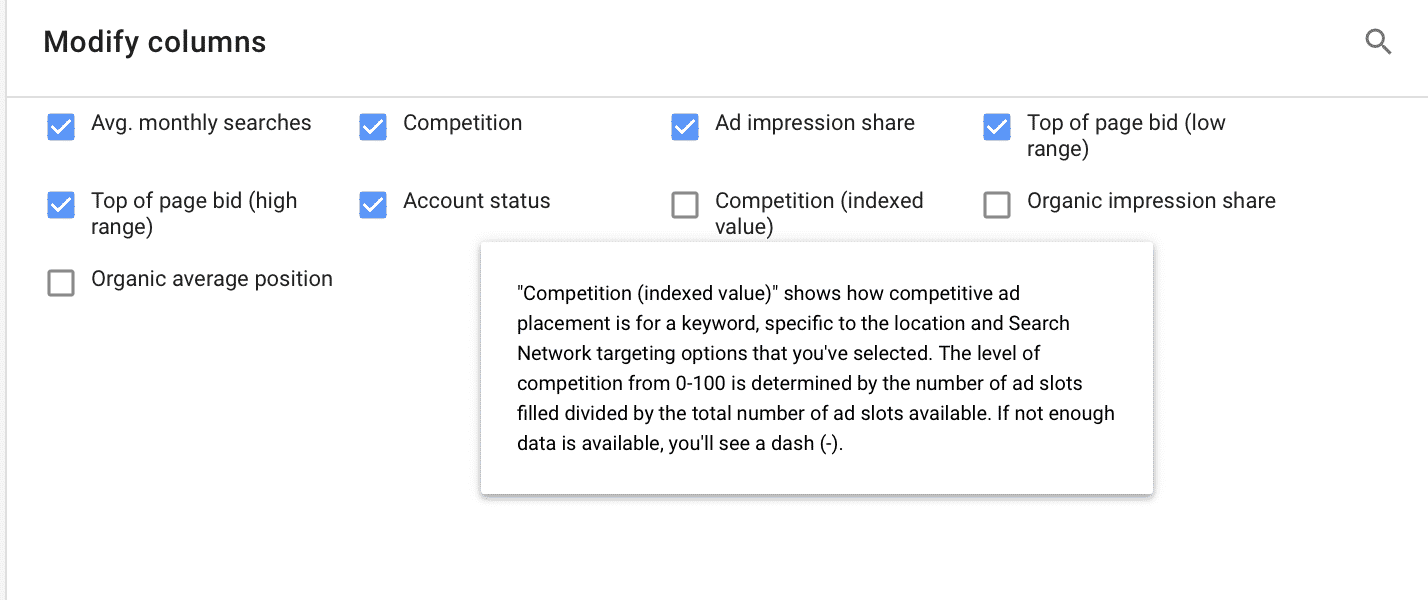 Once you do this, you'll be able to see the indexed value of the competition scores when assessing keywords during the research process.

This is so helpful. If a "medium" volume includes competition levels from 35 to 65 difficulty scores, for example, that's an enormous range. The specificity here will can be hugely informative when you want to make a decision, and may be particularly crucial for small businesses struggling with higher authority sites who need to make more calculated choices.
Final Thoughts
The Keyword Planner has always been exceptional, especially for brands that didn't want to shell out extra cash for tools that have historically offered more features. Now, though, the Keyword Planner is closing the gap by offering more advanced functionality that will help businesses and advertisers make better decisions. The tools will benefit businesses and advertisers of all sizes (and skill levels!), but some may really prove beneficial to those newer to advertising or to a specific niche who need some extra help getting started.
More information is always good news when it comes to advertising, and that's exactly what this update has given us.
Need a little help with choosing the best keywords and optimizing your campaigns? Get in touch to learn more about how we can help you boost your PPC results.
What do you think? How do you feel about the new changes to the Keyword Planner? Which features do you think are the most helpful? Share your thoughts and questions in the comments below!