Facebook Messenger Chatbots 101: No Coding Necessary
Marketing
•
Social Media
•
Cydney Hatch
January 23, 2019
The thought of chatbots can be a little intimidating, right?
After all, think about all the coding that has to go into it, let alone all the content you have to pre-set to make it work effectively!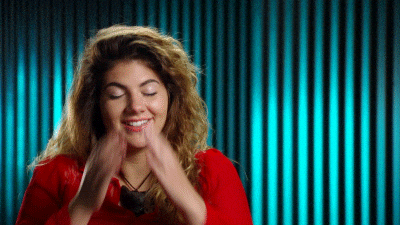 For most, those two thoughts alone are enough to make them want to run for the hills, but believe it or not, robots are here to make our lives easier! Chatbots and other AI technologies are here to take on the burdens of time-consuming tasks—allowing you, the business owner, to do more of what you love and better serve your customers!
So, shake off your preconceptions of chatbots. In this article, I'm going to teach you everything you need to know to leverage chatbots for your business. Let's get started!
What are Chatbots?
Chatbots are programs built to automatically engage with incoming messages. Chatbots can be programmed for general messaging, different responses based off keywords or even to adapt responses to situations!
Facebook messenger chatbots work the same way—except they allow you to communicate with individuals directly through Messenger, the Facebook messaging app. Instead of waiting on hold to speak to a service agent, customers can chat with a bot to get certain information like:
Return Policies
Purchasing Information
Contact Information
Sizing Guides
Tracking Information
Bookings
etc!
Chatbots are supported by a range of different platforms, but Facebook Messenger is probably the most important when it comes to dealing with shoppers (after all, Facebook Messenger use now far exceeds that of the social network itself among consumers).

In fact, the top 4 messaging apps now have more active users than the top 4 social networks.
So, if you are not using messaging apps—let alone efficient chatbots on Facebook—you might be missing out on some great marketing opportunities!
How are Businesses Using Chatbots?
If you think this is a technology that is just rolling out you would be wrong. Lots of large businesses like Fandango, Whole Foods, Spotify and Sephora are using chatbots to connect with their customers and streamline their shopping experience.
Chatbots are meant to be more interactive ways to communicate with potential customers. So, you could use chatbots to answer customer service questions, streamline online tasks, relay information, share promotions and more!
For example, Sephora helps all makeup lovers try on makeup at home with a chatbot feature called Sephora Color Match. This allows users to hold their camera up to any image or face and an algorithm will automatically detect and present the user with the identified shade, as well as other matching products from the Sephora line such as lipstick and eye makeup.
This type of chatbot technology can better inform a potential customer on a certain product but can also introduce them to new products they did not think to try! (talk about a great bundling opportunity!).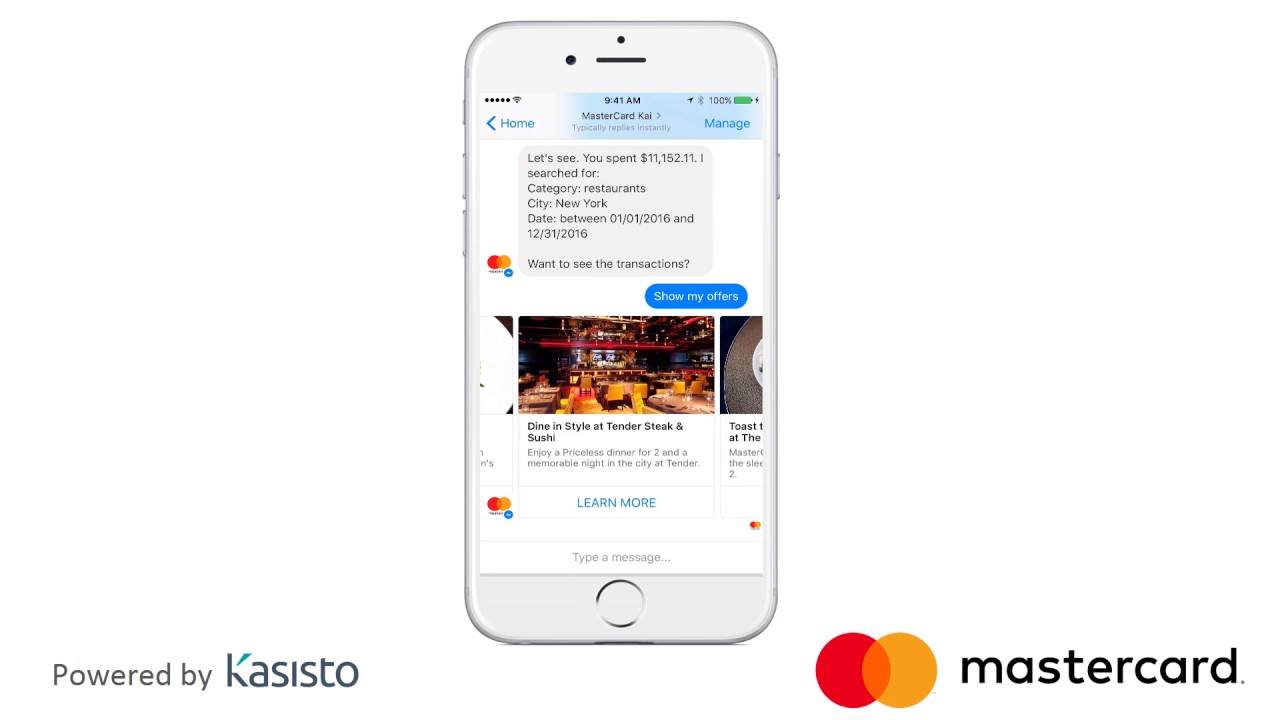 Another example is Mastercard who uses Messenger bots to allow customers to check on account transactions ("how much did I spend on clothing in February?") and allows them to purchase from Mastercard partners directly like FreshDirect, Subway, and the Cheesecake Factory.
As a banking service, this is a great way to build partnerships as well as ease people's experience in understanding their spending habits, retrieve and track money and enjoy benefits. Like them, you too can create unique and interactive experiences for your customers.
Why Do I Need Messenger Chatbots?
Simply put, to be competitive in today's modern business world, you need to automate.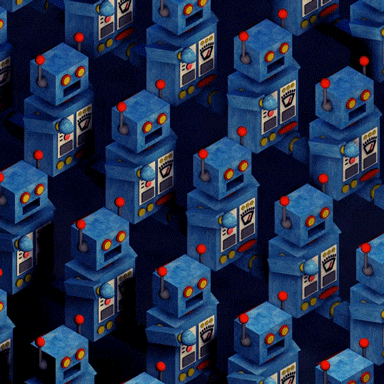 Look around. Over the past 5 years, businesses have transitioned their self-checkout options and kiosks to automated services. In fact, Amazon just opened a store without any cashiers or self-checkouts, limiting human interactions to those only absolutely necessary.
Messenger bots can be a great way to take advantage of the AI trend and make the biggest changes in the lives of your customers.
The value in chatbots comes from their ability to automate conversations throughout the shopping experience, therefore making interaction with your business convenient. To add to this simple truth, here are a few more benefits chatbots and messenger apps bring to businesses:
It Uses Marketing Budget and Time Efficiently
In a world of instant gratification and busy schedules, it's important more than ever for businesses to help customers save not only time but money, any way they can.
By automating conversations with chatbots, you can eliminate your need to hire an employee to handle those conversations (therefore using marketing budgets more efficiently).
The amount of time you save increases as your inbound message quantity increases. And since Sprout Social research shows the number of social messages requiring a response from a brand increased by 18% from 2015 to 2016, you save countless hours by automating responses with a chatbot!
It Generates Better Leads
Chatbots use direct messages to gather information necessary to provide effective support to potential customers they interact with. For example, if a person contacting a business for shipment tracking updates an initial question asked by a chatbot would be to collect their purchase confirmation number and their name.
By automating these types of interactions, a business can quickly gather information needed for a human agent to better serve them. Like this example, there are ways you can initially qualify incoming contact interactions to better serve your audience as well as use your employees time more efficiently.
Typically, you'll find the sales team is happier with more quality leads and time to spend on more meaningful work by chatbot automation.
It Creates Better User Experience
Believe it or not, your website or Facebook page might not be 100% effective, leaving potential customers unable to find information. Sometimes people might just stumble across your page online and just you with questions about your business.
If those people interact with a chatbot, they can be asked a series of qualifying questions that route them to the best place for the information they are trying to find, therefore creating a wonderful and informative experience with your brand.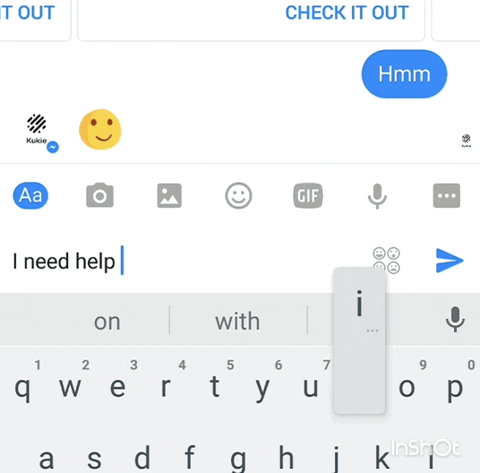 Some of these questions can easily include:
What problem are you trying to solve? What can we help you with?
What are your goals?
Where are you located?
What industry are you in?
Are there products you are specifically interested in?
Have you visited XYZ part of our website for more information?
Would you like personal support?
By personalizing the questions a chatbot asks even further than the ones above, you can best ensure they have the best user experience. Again, being helpful is the new viral and chatbots can definitely help you in that business goal!
It Offers 24/7 Help
Unless you are a huge corporation that can afford to have employees working 24/7, it's unlikely you will be there for your potential and current customers at 3 AM.
Chatbots to the rescue!
The most popular use of chatbots is to provide quick answers in an emergency or offline situation. By using a chatbot when your business is closed, customers still gain access to the information they need all while feeling heard and taken care of.
Since customers expect to be responded to between 0-4 hours typically, chatbots can help you fill in the gaps and log interactions during off hours!
It Creates a Unique Experience
Sure, you could use chatbots in the traditional way of routing people to business emails and phone lines but chatbots have come such a long way in what they can do!
By being creative and branded in your experience, you offer a new, fun and interactive way to engage with your business, therefore setting your business apart from competition!
Getting Started With Chatbots
If you got a bit excited about the possibilities and benefits of chatbots for business above then let's get started!
Once you get over your initial fears of chatbots and understand the true benefit they can bring to your business, the efforts will be well worth it! The great news is, we can make it even easier to set up using the steps below!
Let's walk through the most important things to consider and steps you need to take to get started setting up a Facebook Chatbot system.
Define Your Goals and Purpose
Before you get into any of the technology you need to map out an interactive and useful plan on how you will want to use chatbots. Be sure to also think about all of the "must have" features it needs to contain.
Spend time defining your goal and consider some of the following uses:
Do you want to resolve customer service issues?
Do you want to promote new products?
Do you want to generate better leads?
Do you want to share out a poll to collect audience information?
Do you want to share content?
Do you want to have interactive ways people can preview your products and services?
Whatever you decide, be sure to include your sales, social media and content marketing teams to ensure you are choosing the most effective use for chatbots. A holistic marketing strategy around chatbots typically work best!
Build Out Your Content Strategy
Once you have a business goal for your chatbots, you will need to write out content you would like your potential chatbot users to engage with throughout their experience.
To start, look at answering or addressing:
Frequently asked questions
General information
Purchase information
Contact information
Learning and content opportunities
To be effective with content, think about the user experience and journey your potential customers might go on. Think about what questions customers are likely to ask your chatbot, that way you build out the proper flows to guide users to the best possible answer.
In Messenger marketing, you want to ask open-ended questions that get people interacting and engaging. Ask questions that inspire long-form answers that give you (in their own language) the hopes, fears, and desires of your best customers.
If you are stumped on things to address, involve some of the teams like sales, marketing, customer service and social media to give some insights as to things they feel are pain points, problems or frequent concerns people have. Outside of your internal resources, look to the internet for answers! Platforms like Quora and looking to your social media page comments are great resources as well! Look to what existing content you have that best supports your goal before creating new content as well!
Craft Your Bot's Voice
Once you have the general gist of what you want to say and what you want customers to do during their chatbot experience, you need to draft content further with branded voice and personality!
There is nothing worse than a generic, ineffective chatbot where you know its not a person… it's a robot!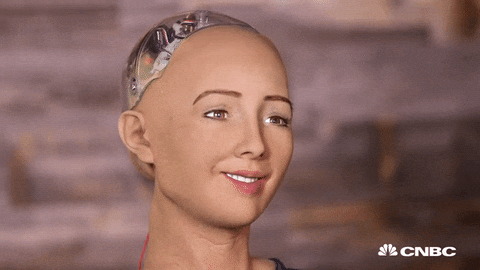 Giving your bot a personality humanizes the experience and allows people to better align your brand with the experience.
To let customers know they are talking to a bot, many brands also choose to give their bot a name. This gives them the opportunity to be transparent with customers while creating a fun tone to interact with.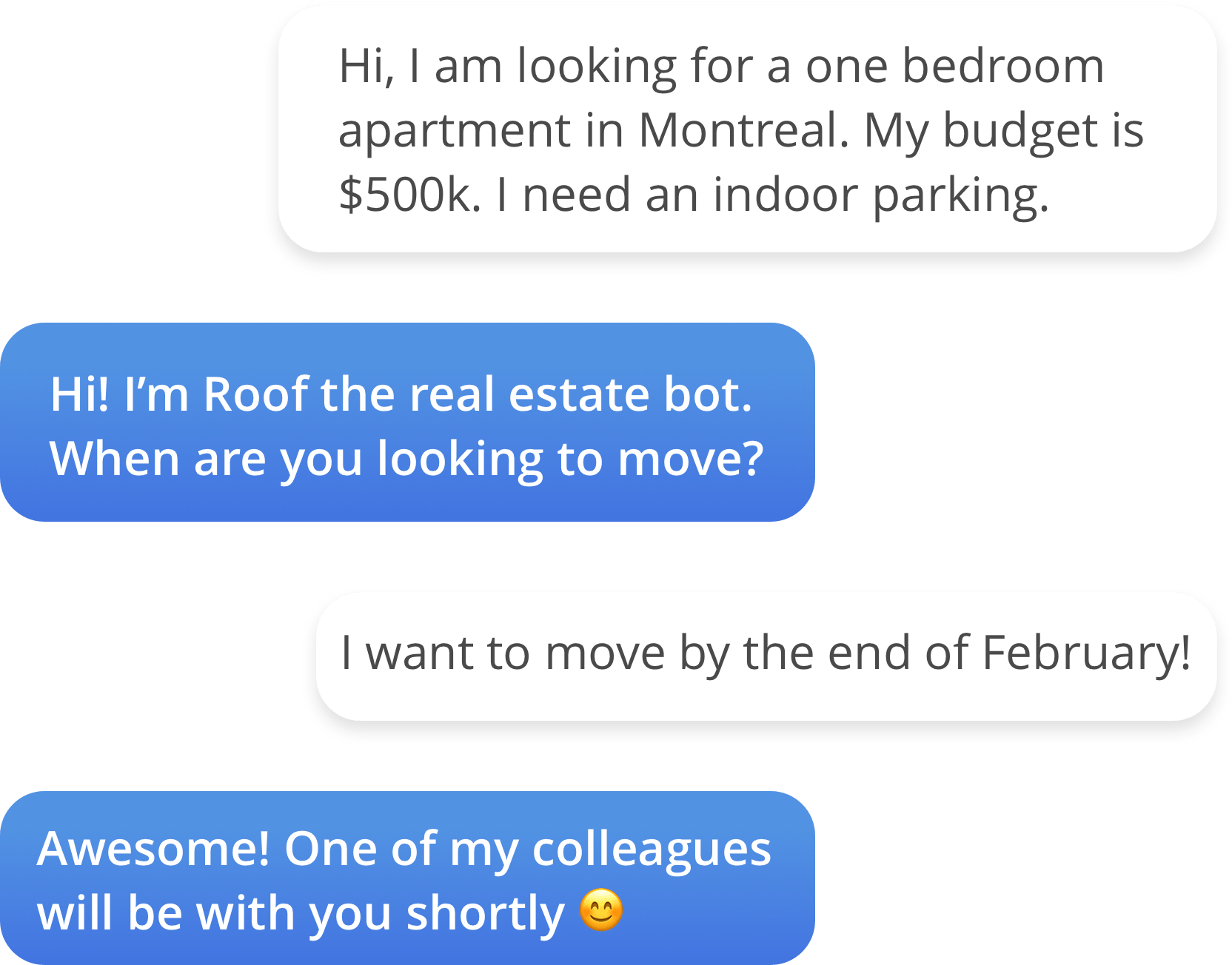 For example,Roof Ai, is a chatbot that helps real-estate marketers to automate interacting with potential leads and lead assignment via social media. The bot identifies potential leads via Facebook, then responds almost instantaneously in a friendly, helpful, and conversational tone that closely resembles that of a real person named "Roof."
Like this example, be sure your voice is consistent and clear throughout the experience you mapped out above. However, don't draw so much attention to the character that it overshadows the service—always put functionality first.
Write a Well-Crafted Welcome Message
Once you determine function, purpose and voice, it will be important to craft a well done "welcome" message to introduce people into the chat experience. This step is incredibly important for engaging users and getting them to respond to your bot (I mean, who also hates terrible open liners or pickup lines?).
The best opening messages are compelling, set expectations, personable and ask questions!
Create Your Chatbot Decision Tree
With your general voice and messaging in place, it will be time to start mapping out what the conversation journey may look like. You can do this with building paths using shapes and arrows in Google Drawings.
Sprout social shares an awesome example that looks at a fictional restaurant which needs to communicate things like store hours, specials and loyalty programs.
For each of the questions that they asked, they needed to figure out the best responses users can choose. By creating multiple responses, like they did, for every question asked you're more likely to satisfy the user's needs.
Expect questions and conversations to build from each other, so think about possible directions and repsonses users might have! Spend time making sure that all conversations fully satisfy customer needs. When the conversation gets several layers deep, it may be time to push that user to a live representative.
Once you do these things, you are ready to get started!
How to Setup Facebook Messenger Chatbots
Breathe! The thought of coding your chatbots is the part that stresses most people out, but there are tons of chatbot-building solutions out there that are easy to use!
Three of the most popular for Facebook Messenger chatbots are Chatfuel, ManyChat, and Dialogflow. Each of these solutions provides no nonsense and coding options that can create interactive chatbots for Facebook Messenger.
The best part of these options, aside from being easy to use is there are free! (With obvious upgrade options)
Building Your Facebook Messenger Chatbot
Now that you have all the tools neccesary to understand what a chatbot is and the benefits it can bring to create more qualified leads, let's roll up our sleeves and actually learn to build a Facebook Messenger chatbot system using Chatfuel as an example!
Logistics here we come!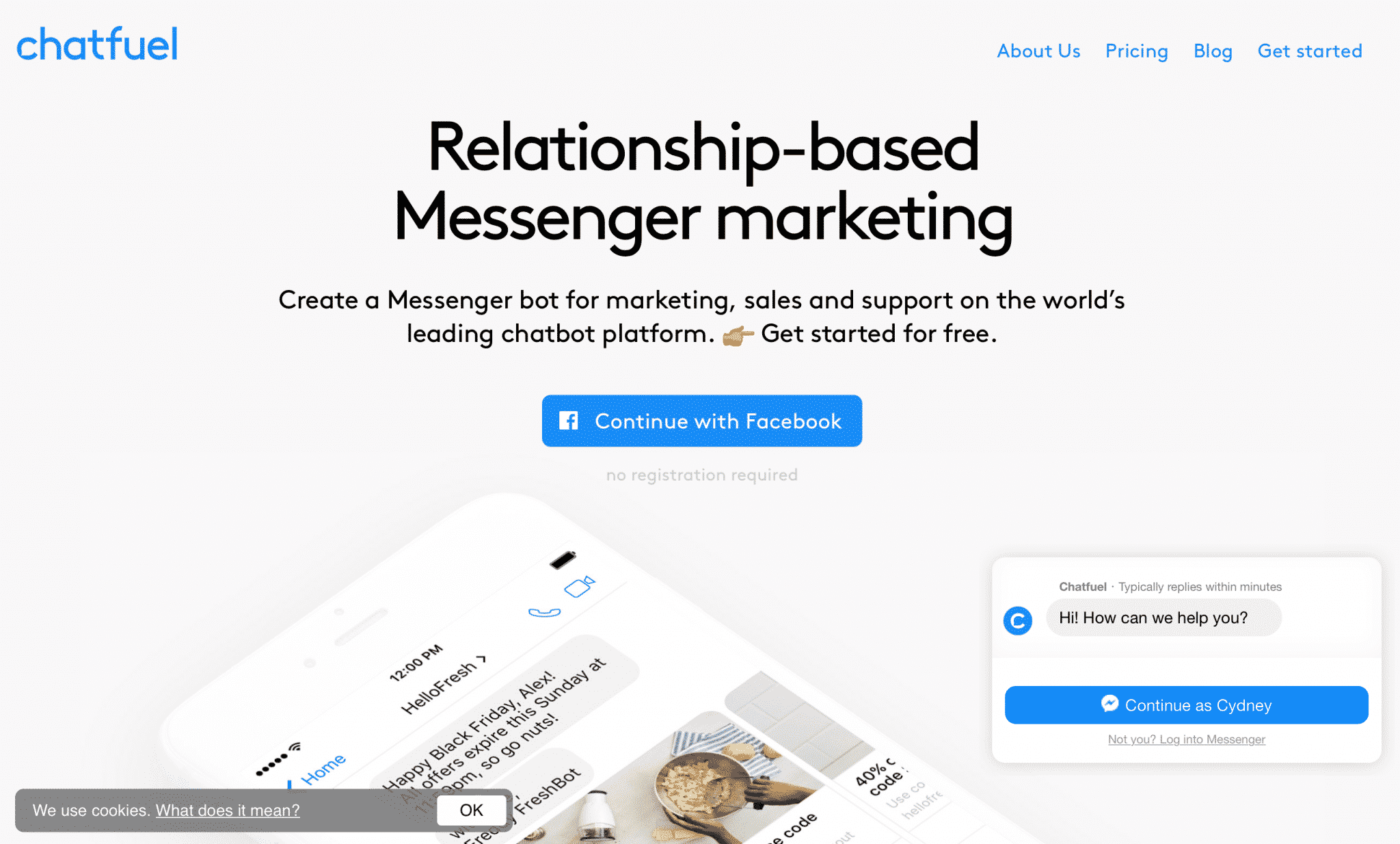 Step #1: Connect your Facebook Account to Chatfuel
Let's ease into this shall we? This is the easiest step. All you have to do is log into Facebook on the browser you're going to connect to Chatfuel in.
Next, you will simply click the "Get Started Button" and sign in through your Facebook account. Once you authorize Chatfuel's use of your Facebook information, you'll be taken back into the Chatfuel chatbot builder, where you'll select which Facebook page you want to connect to.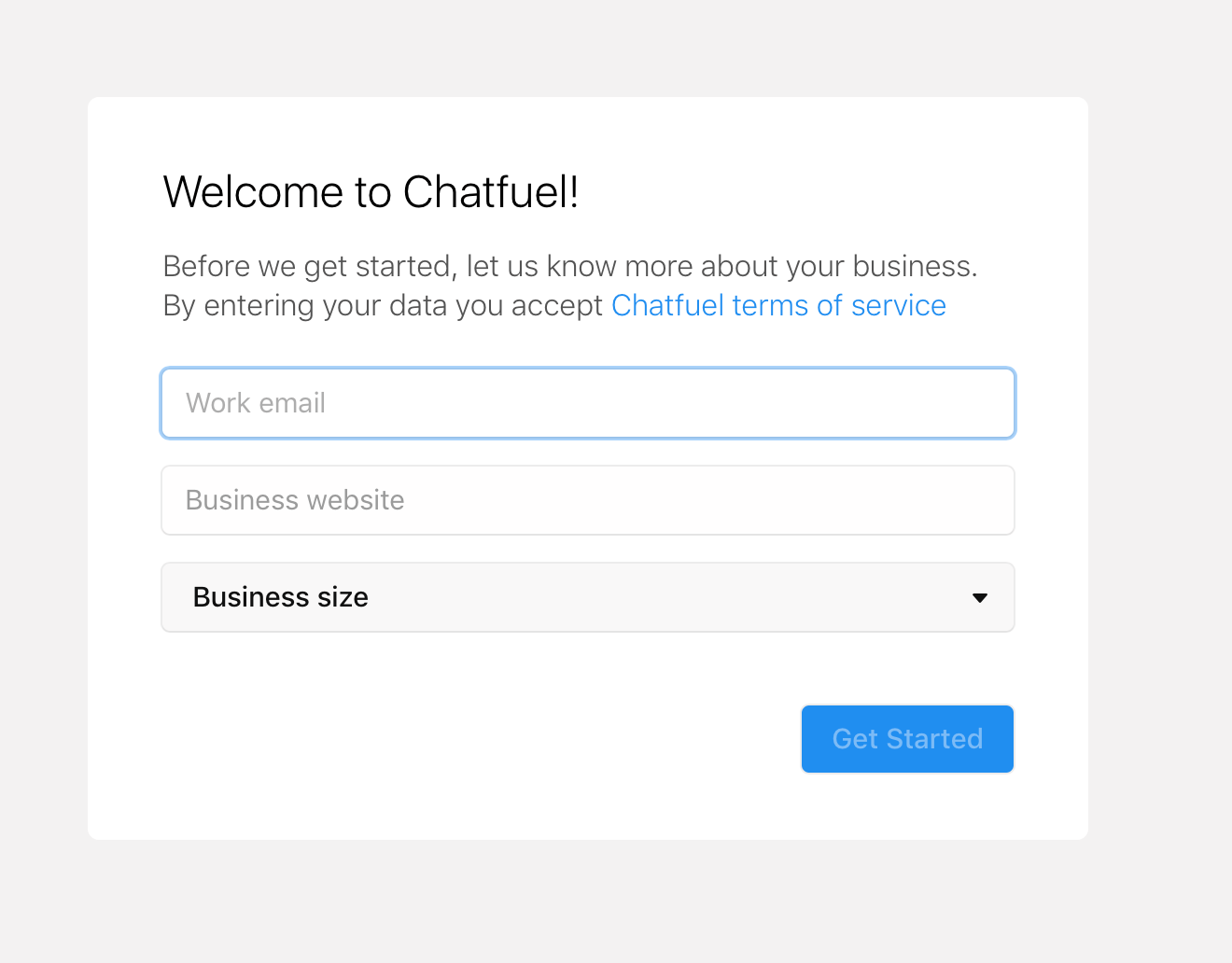 Step #2: Connect Your Facebook Business Page to ChatFuel
Chatbots need to be attached to a business so once you authorize Facebook, you will see the bottom option to pick which business page you manage you want to attach Chatfuel services to: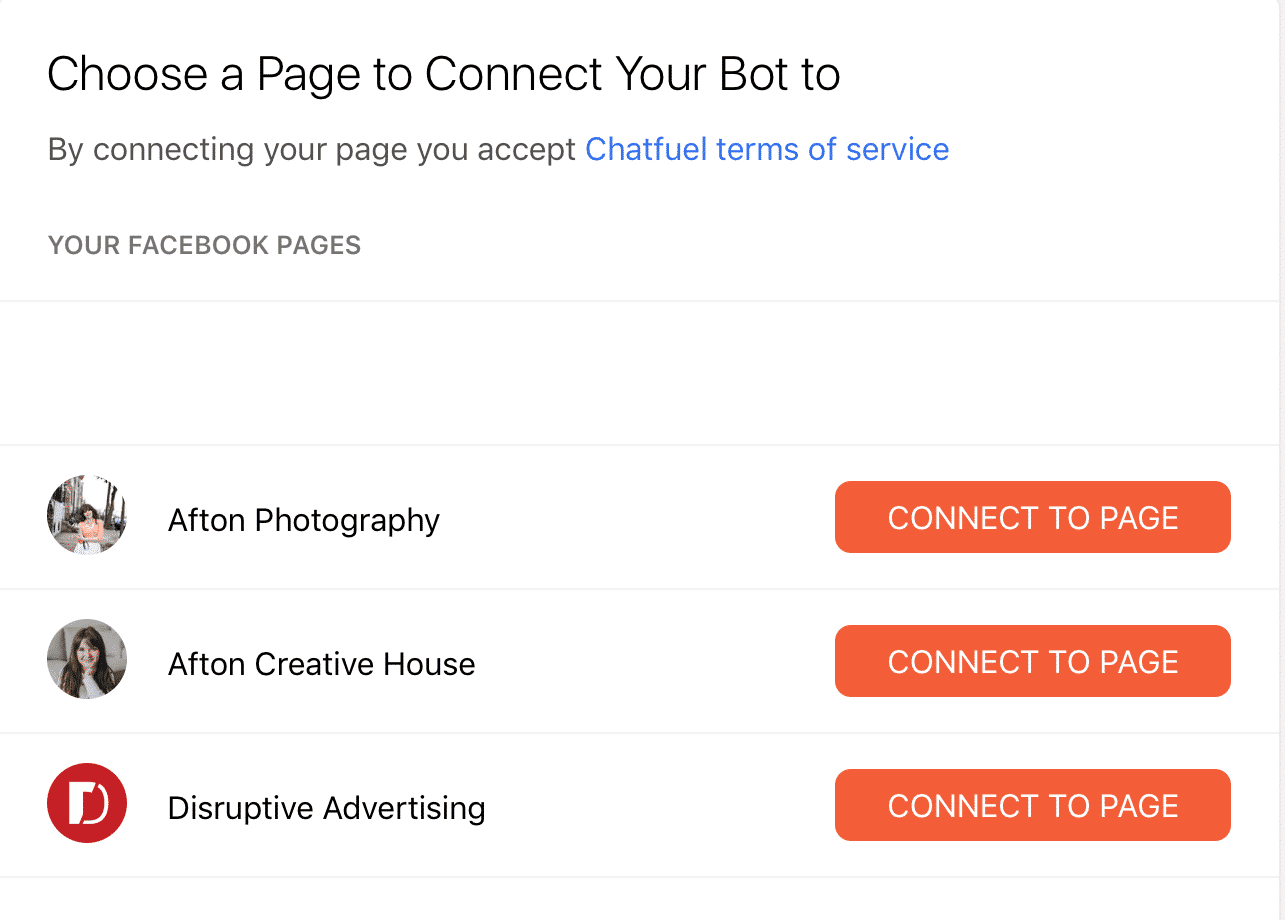 Alternatively, you can also click the "Create a Facebook page" button in the Chatfuel interface to set up a business page if you do not already have one (not recommended, since you should take time to thoughtfully setup a business page)
Next, simply select the page you want to create a chatbot service for as well as the plan you want to use (Free or Pro).
Step #3: Create Your Chatbot Welcome Message
No that you are all logged in, it's time to create your chatbot! The next step is to create your welcome message and introduce the bot to your user (make it obvious so people know they are talking to a chatbot).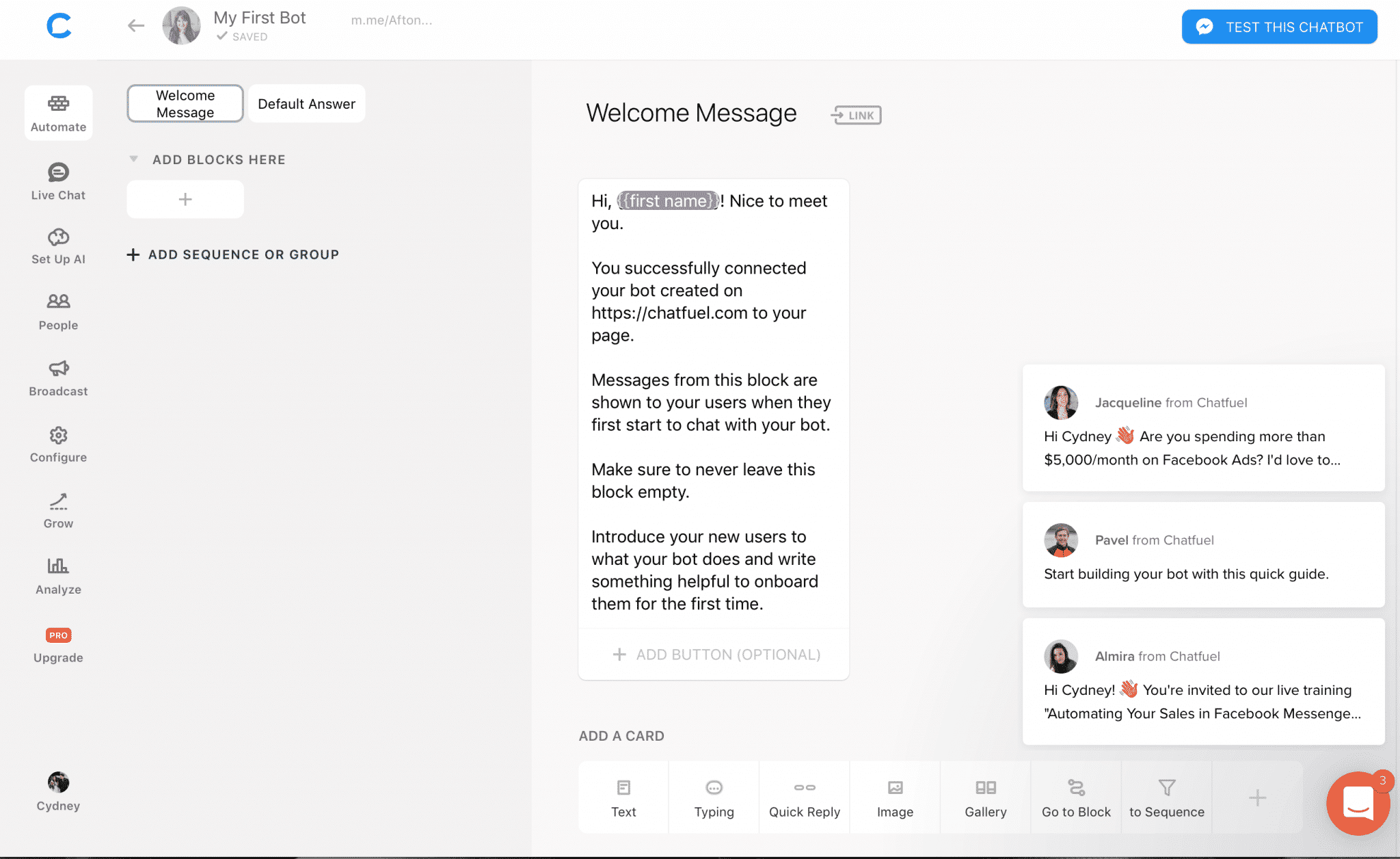 Your welcome message should be a snappy sentence and introduction to the chatbot service with a follow up question to get the conversation started. Again, since you did your homework on the chatbot decision tree and content, it's just a matter of putting your written content in.
Make sure to also create a default message in case your users send a message your chatbot cannot understand or is not setup for. This can be something like:
"Oops, I might not know what you mean, do you want to talk to someone on our staff instead?"
"I'm a bit lost, do you mean (give options that can help them)"
"This is embarassing, I am not sure of that question! Do any of these help you answer the question? If not, I am sure someone alive on our team can help here…"
Be sure to link your default message to your navigation items (discussed in the next step).
Once you have the welcome message and default message setup you need to either direct conversation options to a navigation-type driven conversation (like a phone menu system), or you can have artificial intelligence set up to guide the conversation.
Step #4: Set Up Conversation Paths
In this step, you will build your conversation maps and how the conversations can travel with your chatbot like discussed above. To keep this article short, to better understand how you can setup these technically look to Chatfuels tutorial here.


To set up the actual navigation, you should build a new "block" for each of the possible conversation questions/responses. To do that, just click "Add block," and then type in a title for the block.
Step #5: Connect Blocks in Conversation Paths
Go back to your main welcome message, and click the "add button" option on the message block. Type in the button name—what you want the user to see—in the first field. Then, in the next section, select "block," and then you can select the block you'd like it to take the user to.
There are two other options you can link to:
Put in any URL you would like, and it will take the chatbot user outside of Facebook Messenger to that page.
Enter a phone number, and the user clicking that button will launch the phone's dialer and pre-populate a phone number.
BONUS: A chatbot works best when it's conversational. So don't have your chatbot present users with a long list of options. Chatfuel enforces this marketing rule by only allowing you to have three "buttons" on any given block.
Step #6: Put in Chatbot Content
Once you have the skeleton flow of conversation mapped out, you can now create content that is displayed when someone asks questions or makes comments.
Click on the block on the left, and it will bring up the empty block. Here, select a block type from the following options:
Text card. This is Chatfuel's most simple block type.
Typing. This simulates an actual human typing in the response.
Quick reply. If you build this option into a block, instead of taking them to a new card for an answer, it simply shows a reply.
Image. This is another simple block type. With the image block, you upload an image and when triggered in conversation, it simply shows that image.
Gallery. This is your best bet if you want to add a few pictures to an answer.
+. This "+" sign takes you to a menu of numerous plugins that enable you to integrate your chatbot with other third party apps or leverage more powerful options inside of Chatfuel.
Go ahead and use a simple text card to create an answer for each question/answer segment you want the chatbot to support.
Step #7: Create Your AI Technology
After you've built out all your content blocks, go ahead and click on the "Set up AI" link in the left-side navigation.
Here you get to brainstorm all the questions that might be asked of your chatbot and set up answers. The answers can either be new text you enter in this stage, or you can direct them to one of the blocks of content you've previously set up.
There are two components to this step:
Phrases to watch for. This is where you put in the different words or phrases you want the chatbot to watch for. For example, in the above example, if a user types in a question or phrase with "directions" in it, the chat bot can return actual directions.
Content to display. After the chatbot detects a word or phrase in the conversation, it will return the content you've specified. There is a little drop-down where you can select "text" or "block." If you select text, it will allow you to enter a new text response. If you select block, you can choose the block you want to display and the chatbot will show that content instead.
Step #8: Launch Your Chatbot on Facebook
All you have to do is click on the "Promote" page in the left-hand navigation menu, and then copy the URL at the top of the page. Voila!
Messenger Chatbots For Your Business: Ideas To Try
Now you know the WHO, WHAT, WHY, and HOW of Facebook chatbots, you might wonder how you can creatively use them for your business. Below I have a few ways in which you can use Facebook chatbots to build your business:
Create Helpful Content Experiences
Some businesses use chatbots to focus solely on content and that is great because they can be greatly used for content marketing!
For example, the Whole Foods chatbot is geared toward helping users find new recipes and directly took them to their website. They can enter requests like "quiche recipes" to browse suggestions for different types of meals or food, or move through a series of questions for personalized recipes.
Pretty cool, huh?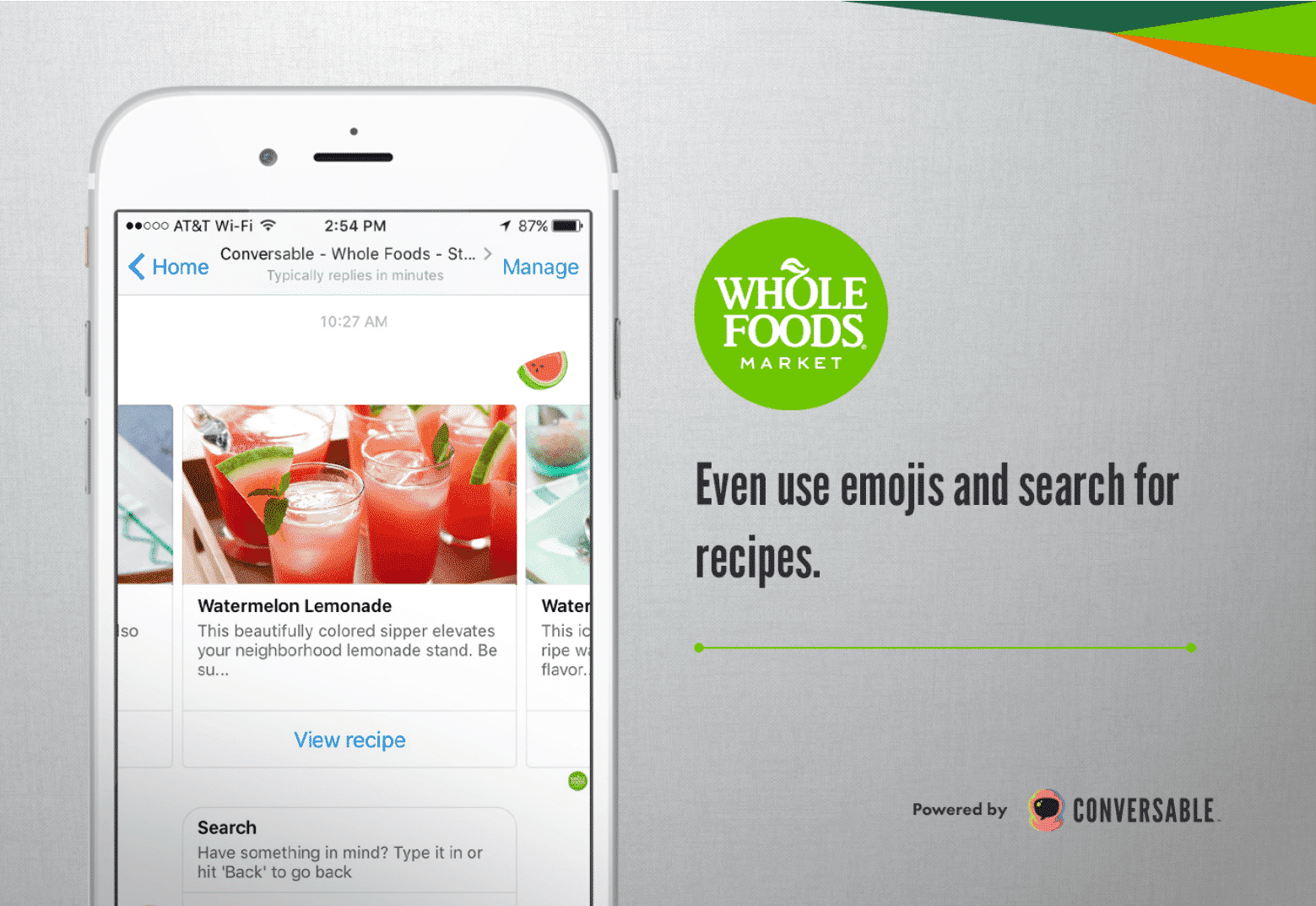 So, for example, do you own a sports gym? Think of doing something like this by working with a fitness influencer to show video workout tutorials gym goers can see logging into your website/their account.
If you offer value, people will appreciate it!
Be Entertaining
If you want to build and nurture relationships with your customers, you do not always need to give information or be on the track for a sale. Sometimes, it's okay to just give them a laugh, inspiration or smile.
Entertaining your potential customers is a high funnel tactic to engage with them, but its definitely effective.
Users can opt to receive future messages from you, but as a business you can send fun facts, inspirational quotes relating to your business or you can create games meant purely to entertain.
The Trivia Blast chatbot, for example, focuses only on entertainment. Once people send their first message, the chatbot will regularly send messages to them with game suggestions and calls to action to play them. Users can sort the trivia games by topic and some games even offer the option to "see how it works" or "challenge a friend," inviting more users to the chatbot.
Like them, you too can create a fun interaction with your target audience as long as you always give them the option to opt out.
Offer Exclusive Content
Lots of businesses have mobile apps that offer automated services, but you can create chatbots that offer these services in the Messenger App itself! As some businesses are dabbling with this, you too can be competitive and even that much more convienent!
For example, RemitRadar's money transfer service is one of the best examples of this type of chatbot. Chatbot users can use automated services to send money, pay for international mobile while abroad, request exchange rates, and find other money transfer locations. All of these services are streamlined and easy to use.
Grow Email and Subscription Lists
Like most things in marketing, your email lists are your lifeblood and chatbots can be a great way to manage and add to your email lists.
There are a few ways to get new subscribers with chatbots:
Give people options to subscribe within the chat conversation
Give already subscribed individuals the option to get subscribed to your messenger updates
Have third party integrations with a newsletter subscription like Mailchimp
Have a button that directs people to your website newsletter integration
By allowing people to access exclusive information directly from Messenger or to make getting information easy, you allow them to follow you in a more user friendly way!
Sell Products Directly
Believe it or not, you can sell products within chatbots!
Chatbots have wonderful options for robust ecommerce abilities and you can have it both done by a developer or a chatbot service like ChattyPeople or Chatfuel.
Share Out Social Contests
Like entertainment, social contests can be deployed as chatbots and they can definitely help get the word out quickly!
On a chatbot, you can ask for users to contribute content, photos, video or answer questions! After a contest is over, you can use the broadcast tool to announce the winner.
BONUS: Proper Promotion: The 24 Hour Rule
Sending out promotional stuff is fine coming from chatbots, but there are specific rules on Facebook you need to follow:
Promotional messages may be used as a response to someone opening a conversation with you: someone has shown some kind of intent, which means they're interested in hearing from you about something.
Once the conversation has been opened, you have 24 hours to send a promotional message. This is called the 24-Hour Rule.
According to Facebook, any message that takes someone out of Messenger is considered promotional, whether it has a sales intent or not. Just 24 hours from that initial contact.
Facebook Chatbots: Helpful and Not As Scary as You Thought
It's easy enough to build a chatbot with today's technology builders, but creating one that works is far more challenging. Hopefully this article gave you steps to consider in your planning process which will make the actual setup more effective and easy!
The best chatbot experiences are driven by creativity, strong marketing planning and correct technology.
In today's fast-paced world, being able to provide instant solutions to your customers is where it's at. Employing a chatbot strategy that's carefully constructed with your customers' needs will take your business to the next level!
If you want help planning out a strong chatbot marketing strategy, or need further help in building one out for your business, contact me here! I would love to help!
What do you think of chatbots? Are they annoying or helpful? What services do you like using to set them up and how have you seen them used? Comment and share below!
Leave a comment