35 Marketing Ideas to Shake Things Up in 2018
Have you run out of marketing ideas? Or are your marketing campaigns stalling out and you're wondering what to do next?
If so, you are not alone.
Whether you're a creative genius or been forced in a creative role, you have probably experienced the equivalent of writer's block. But, like any "funk" we find ourselves in, you can always shake it off. Marketing "idea droughts" are no different.
So, if you are looking for ways to "shake up" your marketing efforts you have come to the right place. So grab some kick-ass jams, get in the zone and let's end the rest of 2018 with some unique marketing ideas!
To make sure that you have everything you need to put together some brilliant new marketing ideas, we'll cover 35 different marketing tactics you can try, but as quick preview, here's the full list:
Refurbish content for eBooks
Create eye-catching lists
Pop some culture into your content
Take the words right out of their mouths
Paint a picture
Help them cheat…just a little
Share snazzy statistics
Breathe new life into old studies
Speak to the noobs
Give your voice a break
Try time-lapse
Be wacky
Make the most of your wins
Offer value
Write a newsletter
Capitalize on events
Try GIFs
Take advantage of your sales team
Make a spectacle of yourself
Connect with the community
Leverage local media
Hold a charity auction
Do the unexpected
Work with influencers
Form a partnership
Describe things differently
Shadow your customers
Educate!
Revamp your conversion funnels
Become a local expert
Try new social media channels
Be shameless
Get into video
Create a hashtag
Host contests
Obviously, not all of these ideas will work for every business, but among all of the marketing ideas in this article, there will be a handful that will "shake up" your marketing and drive great value for your business.
35 "Shake It Up" Marketing Ideas To Try in 2018
Whether or not you're a Taylor Swift fan, "Shake It Off" is a message that all of us need to hear, especially if you're in a creative rut.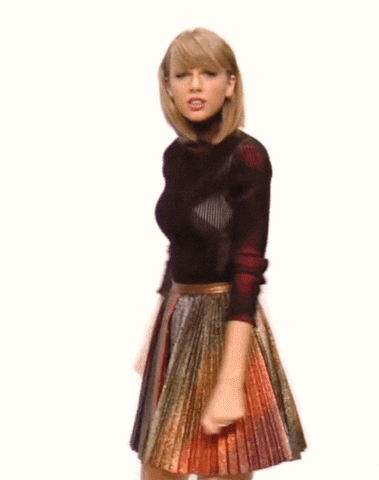 If you feel stuck or discouraged, brush things off and move on with a new attitude. This list of marketing ideas can help energize your marketing plans and get your business back on track!
Content Marketing Ideas
Content marketing is a great, affordable way to market your business, but sometimes it can be hard to come up with a constant stream of high-quality, interesting new content. If you find yourself in a writing rut, consider trying some of the following ideas.
Refurbish Your Content as an Ebook
Have a ton of amazing articles or content pieces but want to do more with them? eBooks are a creative way to refurbish your content and make it go further with your target audience.
Whether you are writing something new or merging content you have already written, eBooks are a great way to centralize a lot of helpful materials your readers want to find!
For example, at Disruptive, we wrote "Van Helsing's Guide to PPC Advertising: The Monsters are Real…"—an eBook that helped readers deal with some of the PPC "monsters" or troubles they might run into on their advertising "travels."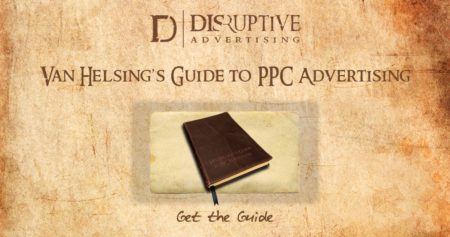 The concepts in the guide were things we'd written about before, but we presented them in a new and interesting way.
Ebooks are also great opportunities to reteach fundamentals in different ways. Like our eBook, marketing ideas do not need to be so "straightforward" but can be written in an engaging, personal and creative way!  Not only will this make reading more enjoyable, it might inspire your readers to get creative themselves!
(Pro-tip–be sure to create a separate landing page around eBook offers as this can help track specific audiences)
Create Eye-Catching Lists
People love reading and creating lists. Many trending articles and popular publications use this tactic to draw in readers (clearly it worked on you, right?). I mean, almost every Google search pulls a content list of some type.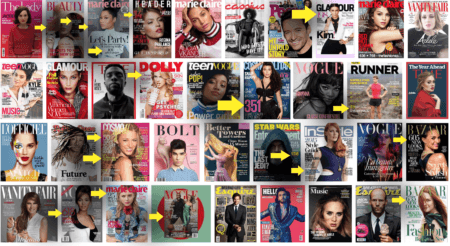 Since online attention spans are low, people love being able to quickly skim through helpful and engaging material. If you are stuck on how to implement this marketing idea, do not fret! There are many ways you can create meaningful lists for your business.
For example, if you are a business or lifestyle coach you can create blog posts like:
10 Things to Look For in a Business Coach
25 Best-Kept Secrets to Entrepreneurial Success
15 Ways to Start a Productive Day
20 Reasons Why You Need To Hire a Business Coach
To ensure reading ease, be sure to provide visual help to readers by numbering, spacing and using varying font types. To comply with reader preference, making bite-sized lists of meaningful content can really be a popular marketing idea for your business!
Pop Some Culture into Your Content
Pop culture reaches almost everyone in some way.
Sure, maybe you've never seen an episode of  Rick and Morty or you might not fully understand what Covfefe truly means, but your audience might. Marketers can reach their target audience on a deeper level using pop culture, which often involves something the individuals in your audience love. The key is to recognize that love and use it creatively, turning pop culture craze in your favor.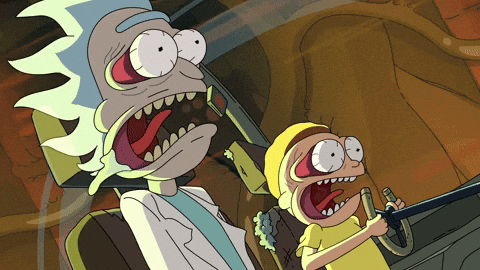 For example, at Disruptive we recently used the "Y U NO" meme to creatively express the ease of a marketing term called remarketing.
So in the below picture, we took a popular social meme and turned it into an engaging, funny and informative post that was made our audience feel like we understood and related to them in a humorous way…even if the reference isn't the hottest trending thing right now.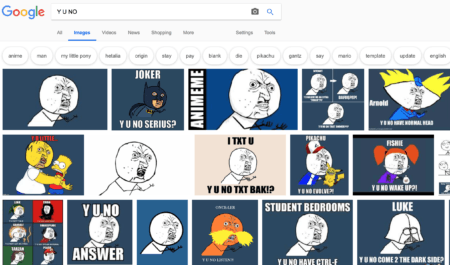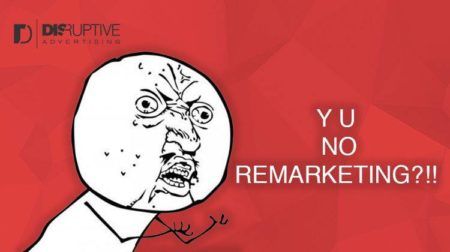 You may worry that by the time you publish your content, interest in your pop-culture references may have fizzled but with practice, you can make pop culture work for you by strengthening personal connections with your audience.
Take the Words Out of Their Mouths
Your customers are already taking the time to write things about your business online, so why not use it to generate meaningful content?
Taking customer feedback, reviews and photos and shaping them into helpful content is a great way to not only engage customers and inspire more conversation, but it also helps drum up simple content that helps create a positive brand image!
92% of consumers trust peer reviews more than business-generated content, so this can be a helpful way to humanize your business brand.
Paint a Picture
Okay, I don't mean actually "paint a picture" here, but a people's attention spans are short these days. To keep them reading, it's essential to have images break up the daunting great walls of texts many content pieces mistakenly feature! By doing so, you make your blogging appealing to the average reading "skimmer" and you will stand out as something people will enjoy reading.
Don't overlook the importance of a visual element, even in white paper, eBook, case study or other text-heavy projects! Your readers will thank you for it!
Help Readers Cheat…Just a Little
People love templates and are always looking for ways to organize and streamline things. So, why not be the handy-dandy resource they are looking for by offering customizable templates?
Templates are a powerful form of visual assets that not only help readers create customized pieces but help them save time. These can be business persona profile templates, social media planning calendars, cheat sheets or more!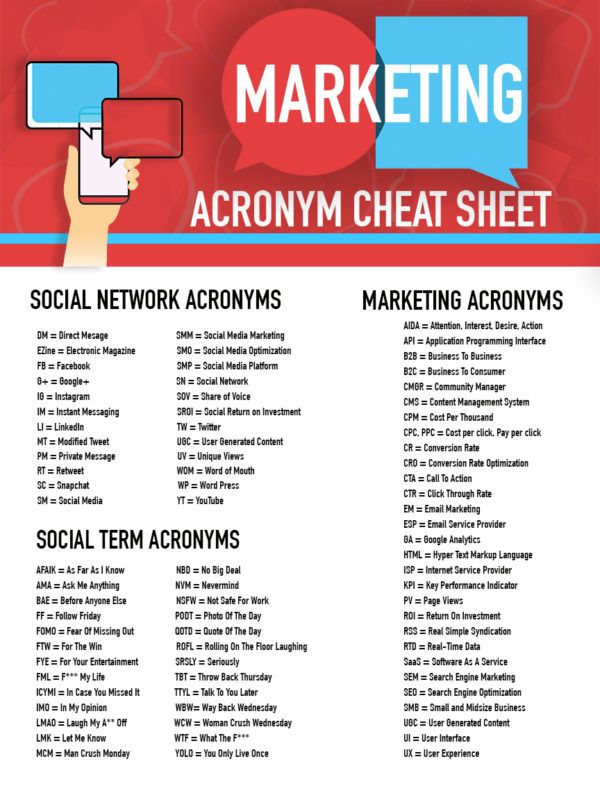 For example, above, I created a marketing acronym cheat sheet readers could download easily to understand the terms we frequently use in digital advertising. Like this, you can create visually helpful content readers can use in their everyday business life.
Share Snazzy Statistics
People love lists because again, it's less reading.
So, if you are hitting a marketing writer's block, collect interesting statistics on a subject matter related to your business or target audience to create a helpful content piece many will want to bookmark for later usage.
Want another positive? Massive statistic lists are easy to transform into additional content like blog posts, email newsletters or infographics, all of which are easy to share.
Breathe New Life Into Old Studies
Cut corners! If you're in a dry spell, instead of making something new, breathe fresh air into something that already exists online. There are a ton of data studies on the internet and while some of these studies may get attention, many have been left by the wayside. So, you might find a diamond in the rough!
Find a study that relates to your industry and spice it up. Highlight important parts of the study, add images, and share your own spin on the data!
You don't need to reinvent the wheel—just be sure to cite your sources!
Speak to the Noobs
There is always one reoccurring group of people marketers will encounter and at times overlook…beginners. A lot of the time we want to write earth-shattering content but we miss the low hanging fruit of fundamental content for this reoccurring group of people.
Creating quality content around fundamentals is a long-term investment that will pay off as this content will consistently recycle to new influxes of marketing noobs.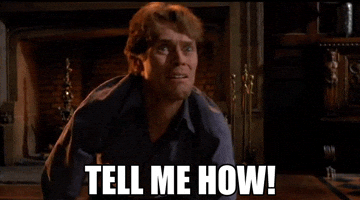 People always remember who helped them get started, so your business can be that first jewel in someone's success story! Not only that, but you will be the recycled article they will share with others who are starting out…see the beautiful cycle and why the effort pays off? Quality help equals high reoccurring traffic.
So, why not dip into the conversations and be helpful to an always existing group of people looking for answers?
Give Your Voice a Break
Tired of being the sole source of content writing? If so, it's totally acceptable to turn the reigns over to someone else…and I do not mean your supervisor. The best voices to include in your business content are influencers, thought leaders or successful professionals that people want to hear from!
To make the most of these opportunities, ask a set of questions that would be helpful to your target audience or have people submit questions ahead of time for them to answer. Both approaches increase engagement and interest, while making the interview valuable to readers.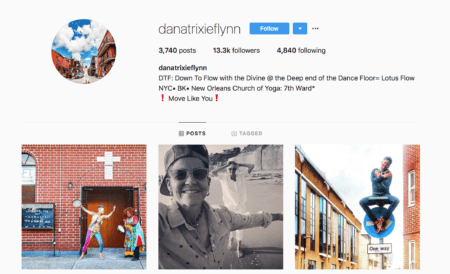 So, for example, if you are a business who sells yoga apparel, interviewing a well known Yogi, like @danatrixieflynn can add traffic due to her expertise, recognizability and die-hard following. Although people love hearing from you, they love hearing from people they follow, admire and respect. Including new voices refreshes your content and adds more value.
(Pro tip – ask the opinions of groups/individuals with large Twitter followers!)
Try Time-Lapse
Video use is on the rise in marketing but some of the most engaging and creative ways I have seen it used is time-lapse. Whether it's product creation, events, or storytelling, time-lapse videos are always fun to see. These types of videos play to the human need to "finish things" so using them can be a good visual hook!
I mean, who can stand not seeing something to the end or not seeing a finished product? I am hooked on these stupid videos myself—I can't resist!
https://www.instagram.com/p/Bkm9qm4FnXa/?tagged=creativevideo
So, like the above video, look for ways to tell stories through time lapse. Show your audience:
How products are made
Behind the scene tours
Time-lapse of product effects over time, like a cleaning product
And more!
By using these videos, you can creatively communicate with your intended audience in a new visual way!
Get Wacky

Did you know there is a National:
Kiss a Ginger Day…
Hoodie Hoo Day…
or Eat an Eskimo Pie Day?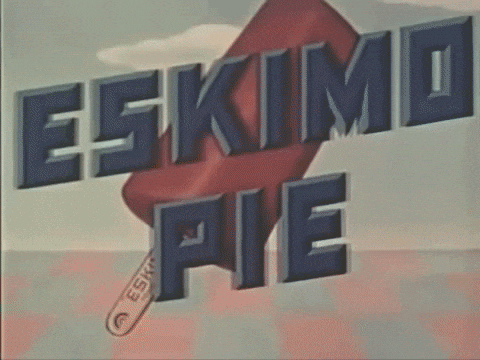 No? Well, know there are many fun calendar's out there for weird, wacky, and lesser known special days you can use for creative and unique content!
By featuring some of these holidays in your content—a lot of which trend on Twitter and other social media platforms—you can have some fun while creating unique content that will fall into trending feeds, resulting in new traffic. Check out the calendar here.
Make the Most of Your Wins
In today's tough business climate, it's important to make the most of any opportunity that can draw positive attention to your business.
Sharing milestones and progression for your business is easy content that shows your customers and prospects that your company is doing well. Thoughtful promotion of business success spreads brand awareness, boosts employee morale and ultimately establishes what sets you apart from the competition.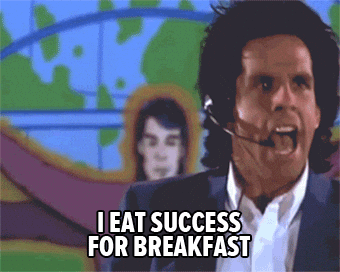 Nothing succeeds like success so, if you publicize milestones and accomplishments, whether it's your anniversary, your 100th customer or other significant milestones, all can be creatively crafted for a consumer to come away feeling they can trust your brand.
Offer Value
Let's face it, getting people to actually subscribe to content is not an easy thing. With an overwhelming amount of email already flooding their inboxes, enticing people to sign up for one more email is a growing challenge.
But it's a whole heck of a lot easier to push people down the sales funnel if you have their contact information, so how can you inspire people to give up their sacred personal information without being pushy or creepy?
Offer exclusive content for subscribers!


Do not be boring asking people to simply subscribe. Instead, include messaging that describes the value of your content. Tell visitors that by signing up, they'll receive great tips and how-to's, discounts or other subscribe-worthy incentives.
In order for your visitors to willingly fork over their email address, you need to make benefits directly clear and answer the question "what's in it for me?" If you do, everyone in this transaction will be happy!
Nail Your Newsletters
Newsletters seem like overworked content material that shove promotional junk down people's throats, but if done right, a good newsletter can bolster brand awareness, secure customer loyalty and improve profitability.
A monthly newsletter is a great way to keep your business top of mind to existing customers or subscribers but to be worth your while it should be 90% educational and 10% promotional.
A great example of this is Fizzle. Fizzle's newsletter is aimed at entrepreneurs who want weekly tips on building a business sent directly to their inbox.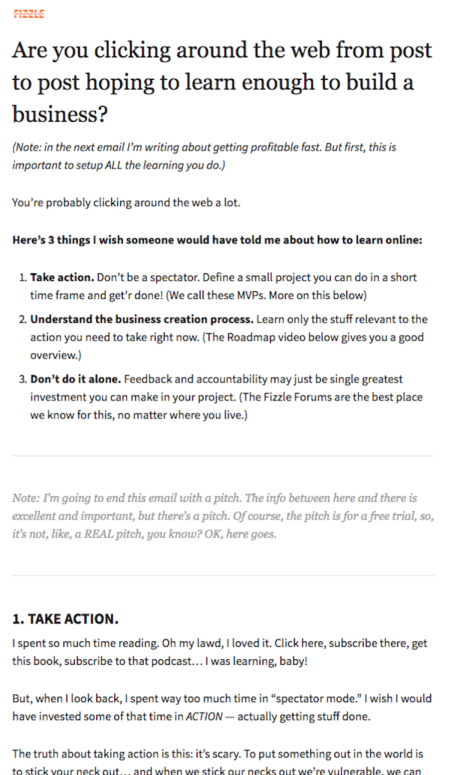 A unique approach they implement well is creating specifically crafted messaging you cannot find anywhere else in their content.  Do not make the mistake of copy and pasting blog or website content because people who are well versed in your business, like subscribers or customers, will check out if it's content they have already read.
Finally, be sure to use clear visual organization to break content up, but most importantly, make sure crucial stuff is bolded. Why? Because this helps readers skim!
If you follow some of these guidelines, newsletters can be a refreshing not another thing to sit in people's spam folder!
Make Events Work for You
Not finding a lot of inspiration? Look to events as a way to create meaningful and reflective content for readers.
Whatever the event, consider writing a post about your experience or highlights you gathered from the event. If you found it worthwhile to write down and remember, chances are someone else will find it valuable as well!
This is also helpful content to reflect on if you would invest your time and money to attend the event in the future! (Pro Tip–Use the hashtag from the event to help promote the post for additional traffic!)
Design GIFs
If a picture is worth a thousand words, a GIF must be worth ten thousand!
GIFs are so prevalent today because at times, they just say so much more than words can. Fortunately, GIFS are not just reserved for the common person to share on Facebook. In fact, many businesses, politicians, and even film studios, work with sites like Giphy to create relevant GIFs for their brand.
Posts that contain GIFs can increase engagement and conversion rates because they help people connect with you. It's no coincidence that marketers have begun to utilize GIFs to further engage their audience, particuarly Millennials.
For example, I wrote an article about Amazon FBA and found that on Giphy Amazon had customized GIFs ready to use! They beautifully created quality, humorous and branded GIFS that were beautifully engineered visual ads!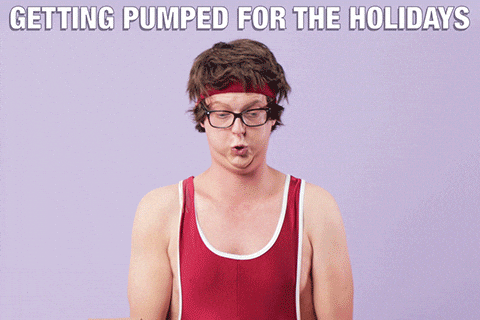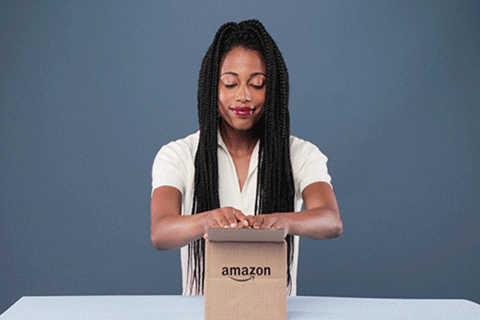 Like Amazon, you can create GIFs for your industry with your logo in the corner or creatively shown within the design. This is a fun way to be creative and tell the story of your business, one of which others can use as well!
Take Advantage of Your Sales Team
You know, the people who work on your sales team can be a resource as they interact with your current and potential customers all the time, meaning they have an inside line to how your audience thinks! Talk about a marketing idea goldmine!
Do not be afraid to ask them questions and to help you learn pain points so you can address them in content  This is a great marketing idea you can use to improve and sharpen your content messaging for your specific audience!
Local Marketing Ideas
Even if you're a national or global business, sometimes it pays to think local. Here are a few local marketing ideas to consider.
Make a Spectacle of Yourself
Whether you're a toddler or a marketer, one great way to get attention is to make a scene! Of course, you're not a toddler, so you can think of better ways to get people's attention, but the basic principle is the same.
So for example, say you are a fitness instructor who wants to build up the client base. Take some of your clients to a public space, obviously not in the way of others and train them. By seeing you in action, spectators might want to come talk to you about the program.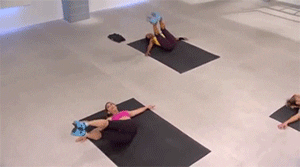 Invite a videographer to document this experience for video content and to help catch more visual eyes in the crowds passing by (people can't help but rubberneck ato see what is going on)!
To take it a step further, beforehand you can promote this public appearance on your social media profiles and invite people with limited amounts of free spots for your services. If those spots fill up, give them an incentive to stop by anyways like free or discounted stuff.
Connect with the Community
Businesses are in communities and communities have their own culture, social relevancies and interests, right? To connect, why not tap into the interests of the locals?
This genius marketing idea is beautifully portrayed by salad business Sweetgreen in Washington DC, where they created a campaign around things that greatly mattered to the locals: politics. The campaign had the slogan "Make America Healthy Again" which was put on bumper stickers, hats and tote bags.
Since D.C is a politically charged city full of walking and active people who frequently wear hats and use tote bags this was a perfect marketing fit! This marketing campaign promoted their business all while connecting with the city's careers, culture, social scene and people.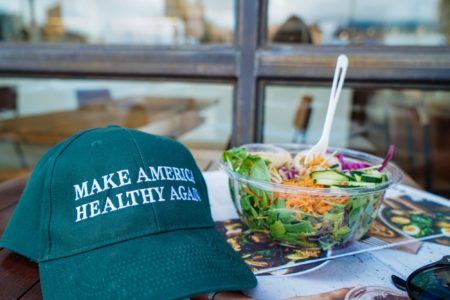 To achieve this same effect for your own business, you can't just slap your logo on a sticker and hand it out to people. Instead, you need to make a customized and relevant piece for your location. Think about how it can communicate/connect to your city like the SweetGreen example. Ask yourself:
What matters to our neighborhood?
Is there a funny pop culture thing that has taken hold we can play off?
What is this city known for?
What are the jobs most people hold?
What are common merchandise items people in our communities use or wear?
What are slogans, features or other things we can tweak to be cheeky?
It is all about making localized visual marketing opportunities!
Leverage Local Media
Getting your business mentioned in the media is an awesome marketing idea opportunity and best of all, it's free!
To get media involved, reach out with meaningful and well thought out pitches on how you can help them fill media space in their calendars. Most media companies are always looking for stories so it's all about doing something that will draw attention to your brand. Whether it's a publicity stunt, a community event, a newscaster trying your services during an open house, etc, it's a great way to get the word out about your business!
Also, there are tons of free award programs you can apply for which will also help your business get media mentions like the Inc 500, 5000 etc.
Hold a Charity Auction
Donate your product or service to a charity auction! Everyone loves an auction, but more importantly, everyone loves businesses that give back. By participating in an event like a charity auction, you get to help others and earn brownie points as a "good-doer"—which helps you build a better local image.
Like any event, this is also an opportunity to meet and network with prospective clients! Everyone in attendance will get to hear about your product or service being offered from the auctioneer and hearing people bidding on your item will make those unfamiliar with your business think you must be pretty great.
Advertise in Unexpected Places
Street art is no longer reserved for artists, it's a powerful way for marketers to disrupt the norm and advertise in unexpected places! By doing so, you create unique and eye-catching ads that will imprint on customer's minds!
One way to do this is through chalk art and wall murals. Chalk art is a great way to catch glances from potential walk-bys, create hype by social sharing and since it's temporary it allows you to change things up and create new messaging constantly!
For example, one of my favorite tattoo artists, now cosmetic empress, Kat Von D, created street art for one of her makeup line launches.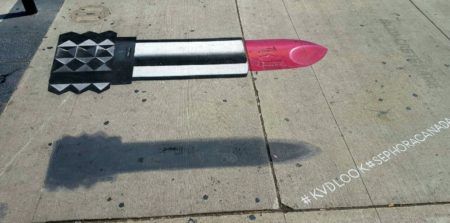 As you see in the image above, she had an artist commissioned to draw her new lipstick line on streets in Canada. Not only was it an image but it also shared helpful hashtags for customers to look up later or to promote social sharing.
Another example of successful street art advertising was Justin Bieber's launch of his album "Purpose." He began tweeting and sharing on Instagram the album's tracklist via photos of graffiti on walls located around the world.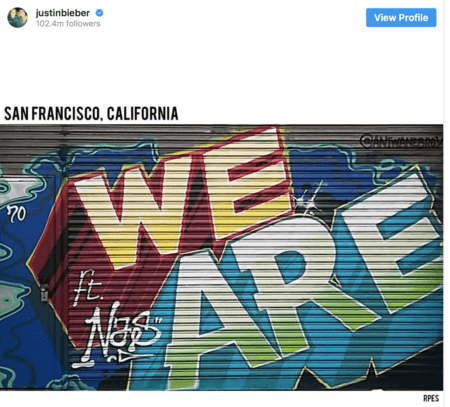 The first one, "Mark My Words," was from Sydney, Australia. Track two, "I'll Show You," came by way of London. "What Do You Mean?" was from Stockholm, Sweden… so on and so forth. By doing this, he created a social hype around a new album that got people excited to not only find these walls but to take photos with them, therefore promoting social sharing that much more!
With advertising, it's so important to keep everything fresh and innovative. Chalk/street art gives you lots of opportunities to change things up and will push you and your colleagues to think of new advertising ideas and strategies.
This strategy is most effective for locally oriented businesses, but it can be used in a lot of creative ways for just about any business level or industry!
Introduce Interesting Influencers
With the rise of social media came the rise of social media influencers.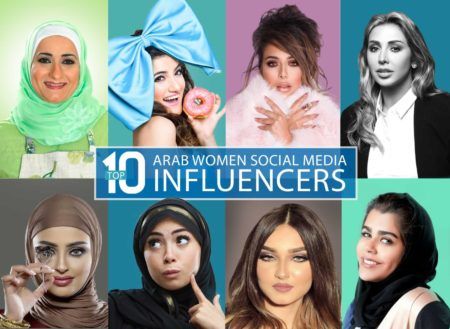 Social proof matters to people. These days, brands have trouble developing a strong trust with their targeted audiences. Nielsen reports 92% of people trust recommendations from individuals—even if they don't know them—over brands.
That online trust equals sales for you!
When you align your business with an influencer, not only do they bring their loyal audience to your business, they also bring an audience that already trusts them and—by extension—you!
Working with influencers isn't complicated, but you should always outline the goals and expectations for any influencer that you decided to work with before you have them start to post on behalf of your brand. Learn more about social influencer marketing ideas in my article here.
Partner Up, My Friend!
We have all heard the phrase two is better than one right? Well, marketing collaboration is just the same, try teaming up with other local businesses! Collaboration between businesses on marketing initiatives can be hugely beneficial. Not only can it can increase exposure for both companies, it can result in more leads and greater overall success compared to working on alone.
A strong example of this is cross promotion  You can mention each other on social media, give joined discounts, or combine your email subscriber lists to send out a joint promotional mailing.
The best businesses to link up with are ones that will be complementary to your business or services like a business that sells related products. For example, a plastic surgeon might partner with a cosmetic dentists office for cross promotions.
If you run out of ideas on how you can expand your audience, look to make some friends!
Branding and Business Strategy Marketing Ideas
To get more out of your marketing, you sometimes have to take a step back and take a look at the bigger picture. In many cases, shifting your focus to a point higher in your marketing funnel can have a huge impact on your campaigns!
Frame Things Differently
When the marketing ideas just aren't working, its time to send in the guerrillas! Think of ways to promote products or services in an unconventional way because if you do people will pay attention in a memorable way!
People get bored with the same types of styling and business advertisements so learn to shake things up. For example, if you own a construction business,  paint some of your trucks pink. If you are a shoe company, is there a unique display you can make in a public place?
These examples show how you can break industry and business molds and how doing so will help your business get noticed! If you are running out of creative ideas, think about how you can break the rules…just a little.
Shadow Your Customers
The phrase," Location! Location ! Location!" is not just reserved for real estate. It also applies to marketing because if you do not place advertisements where you customers travel, leisurely look or interact with, why does it matter?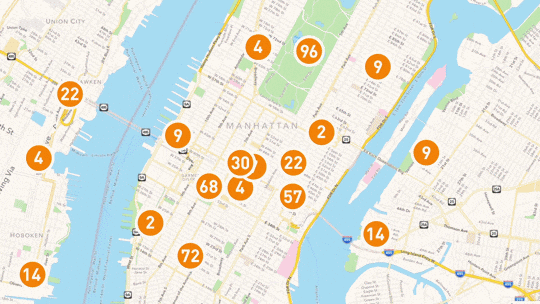 Location is closely tied to high returns on investment. If you figure out where your customers spend most of their time, you can place advertisements that will be successful in their personal space.
So, look for the places they locally, digitally and socially go to! If you are a dating website or company, advertise and marketing in places like bars during happy hours! By doing so it not only exposes your brand to potential customers but it informs them on your service and how they can act…it almost seems like they were supposed to see this!
Educate!
Have you ever looked up the answer to an obscure question in a conversation with a friend? Have you ever needed to look up a tutorial on how to do something? If so, you are like a lot of people in the world who are constantly looking for answers.
People want educational value and if you are the teacher, you can be a trustworthy source they continue to go back for answers or heck, purchase from you!
If you are struggling for some content, look for ways you can teach someone about a topic! Whether it's through a seminar, vlog, podcast or blog posts, people want to improve and learn from others. By making the efforts to educate, you can help them know they can make a purchase from you, as a guided source and not regret it.
Design Effective Conversion Funnels
Designing customized conversion funnels for your busines should include important elements like awareness, education, evaluation and retention framework. If you're missing any of those elements, you might notice leaks in your funnel.
Become an Expert in Your Community
Reach out to local junior colleges or your local chamber of commerce and speak at their events. You will have an audience to talk about being an entrepreneur and your products and services. Being a community leader will help you get recognized around town.
This method also "double dips" as a way to get talent from local universities and colleges too.
Social Media Marketing Ideas
Social media offers a lot of opportunities to marketers, but sometimes those opportunities can be hard to take advantage of. If you feel like you aren't getting what you want out of social media, it might be time to try some of the following.
Pin Purposefully
Believe it or not, Pinterest is more than just a "girly" website that features mason jars, burlap, or feel good quotes! It is a sophisticated and visually stimulating opportunity for you to marketing directly to active consumers looking for products and services.
While Pinterest isn't quite as big as other social media platforms like Facebook or Twitter, it can be a special place to promote your business. Using Promoted Pins, you can drive a ton of high-quality traffic to your site which can result in big conversions!
Since people love visuals, post your strongest visual content on Pinterest and link them to your web pages for some serious traffic.
Shoppable pins are a relatively new addition to the corkboard inspired platform. Shoppable pins allow teams that have products listed on their website to add them to a Pinterest board. Once there, pinners can see prices and click the pin which will take them directly to the site to buy them.
If you are looking for a visual way to share content more effectively, do not look over Pinterest.
Be Shameless
It is not what it sounds like, do not run around naked at a networking event.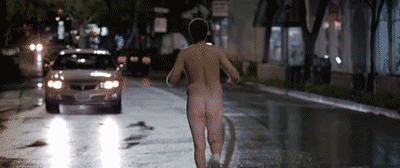 Instead, be shameless with pushing out social media content and accounts. Having many Facebook or Twitter followers could translate to actual customers because more followers tends to give a social proof acceptance that you are legitimate.
Speaking at a conference? Put your Twitter handle in the slideshow.
Ordering business cards? Promote your social accounts!
By sharing your accounts information people can have access to you and check you out further!
Get Into Video
You don't need to really buy equipment to make professional looking videos. You can use your phone—assuming it's somewhat quality—prop it up on a tripod and start recording. It takes time, but then you can really educate and engage your prospects more effectively than you can with just another blog post! People respond more to visuals these days!
If you're not comfortable on camera, use a software like Camtasia and do a voice over with a PowerPoint presentation or use a whiteboard for explainer videos.
Join the Hashtag Game
If you want to build your social media following, you need to be an active participant in the community. This means posting regularly and joining in on fun weekly social media traditions that already have a loyal audience. Show the kids how hip you can be!
Having hashtags that are specific to your organization makes it easier for audience members to find content specific to you and include you in their conversation. For example, at Disruptive we started participating in #WinningWednesday where people share daily wins they had in their lives. Every Wednesday we share a win we had for a client!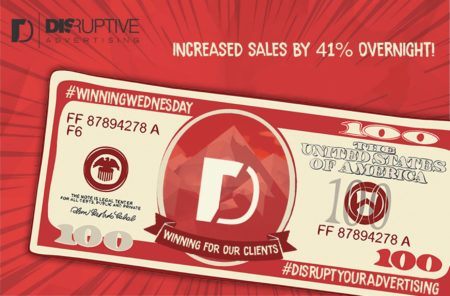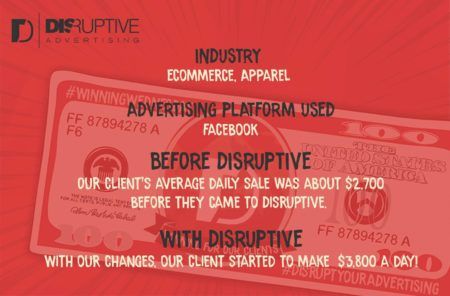 Not only did we join that public hashtag with meaningful content from our business, we also started using customised hashtag like #disruptyouradvertising to start our own social hashtagging.
Like us and many others who participate in hashtagging, this helps promote our business in a public space and allows people to find our content easier!
Host Contests
Social contests are great for a number of reasons—they're relatively easy to enter, and they also provide sponsors with a great form of user-generated content that can be reused and implemented elsewhere.
There are many types of social contests you can host:
Voting
Photo
Video
Caption Giving
etc…
All of these can give you content, insight and conversation with customers which can inspire new content topics to cover as well as helps you market yourself as relatable and "reachable."
Are You Ready to Shake Things Up?!
After reading this, you should be able to spice some things up and get your marketing up and going again! Luckily, the sky is your limit. There are plenty of marketing tactics you can make use of that are not expensive, not terribly hard to set up etc!
If you want some more content, are interested in my inspiration music playlist tracks or want some help refreshing your marketing strategy, be sure to reach out!
What are some creative marketing tools and tricks you have started in 2018? Comment below!
Leave a comment